1-800-Flowers Review
Flower delivery services can take the guesswork out of shopping for floral arrangements or choosing flowers that are in season. They also make it possible for you to send a gift to a loved one, whether that's a spouse or partner across the city or a friend or family member in another state, even when you can't deliver your gift in person. Many businesses also use floral delivery services as a way to thank loyal customers or to help secure new clients with a show of generosity.
However you choose to use a flower delivery service, it's important to note there are many available in most markets. 1-800-Flowers, a mainstay on the flower delivery scene, is a popular choice for personal gifts and business use. Are they the best flower delivery service for your needs?
Use this guide to learn more about 1-800-Flowers and the pros and cons of their service.
The History of 1-800-Flowers
Founded in 1982, the concept of 1-800-flowers was based on the idea of getting the word flowers into the name. At the time, the concept of phonewords was new and novel, and few companies were using them. While 1-800-Flowers was able to obtain the phone number for their company, a series of legal disputes followed them, putting the company into financial trouble from the start.
Despite their rocky start, 1-800-Flowers began to flourish in the 1990s when AT&T used the brand to showcase its phone service in a variety of national advertisements. In the early and mid-1990s, the company continued to grow by working with internet providers like AOL who were beginning to make their mark with the general public.
By the year 2010, 1-800-Flowers had more than 4,000 employees. Today, the company has assets valued around $300 million, making them a major player in the business world and the leading flower delivery service in the US. Harry & David, a prominent upscale food seller, is a subsidiary of the brand, which adds considerably to the company value.
1-800-Flowers Pros
1-800-Flowers is one of the most popular flower delivery services on the market. While a lot of this may have to do with a large advertising budget and wide delivery area, individuals who use the company tend to give very positive reviews. Here are a few of the most commonly discussed pros when discussing 1-800-Flowers:
• The arrangements and flowers are fresh and last a long time. In many tests, the flowers that came from 1-800-Flowers lasted about a week in the proper conditions. This is a pretty good overall timeframe when you're delivering and shipping flowers to a variety of destinations. This means that the flowers are fresh and healthy when they're delivered.
• The company offers a wide range of different arrangements. They may feature seasonal flowers and holiday appropriate options on days like Valentine's Day, but you can find your favorites – or that special someone's favorites – with ease.
• You can get other items added to your floral delivery. Give chocolate, candy and a range of other items like stuffed animals along with your flowers. This makes finding the right arrangement more flexible and easier for most users.
1-800-Flowers Cons
1-800-Flowers gets many positive reviews from once-in-a-while consumers and regular users. However, not every review that 1-800-Flowers gets is positive. Here are a few of the potential cons you may read about when researching 1-800-Flowers:
• The website is confusing and choosing the right flowers is not always simple. While many users find the interface to be problematic for them, this may be more based on their use of the site than the brand actually have site navigation issues.
• The prices are too high. Seasonal flowers and special occasion deliveries can be costly, but many of 1-800-Flowers deliveries are in line with average local floral delivery prices.
• You may not be able to get the delivery time you want. During busy peak holiday hours, getting the ideal delivery time from 1-800-Flowers can be tricky. Schedule your delivery in advance if you have an ideal window for your floral delivery.
1-800-Flowers Bottom Line
1-800-Flowers typically gets excellent reviews from customers, making them an ideal choice for consumers who can't shop in person. While you can find negative reviews, ordering ahead of time and comparing prices ensures that you get the best floral delivery option possible.
As always, it's best to compare between a few floral delivery services that are available in your area for prices and availability. You may find that one wins simply because of your geographic location. Once you find the one you like, you can let them handle all of your flower delivery for personal and business needs.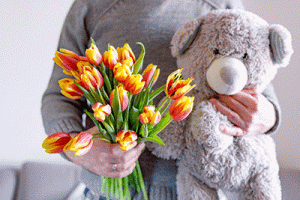 Advertising Disclosure: This post contains affiliate links and at no additional cost to you, Watch the Review will be compensated if you make a purchase after clicking on these links.