All Girl Shave Club
Getting a good shave is something that used to require expensive blades. Today, you can get a close shave no matter what area you're targeting with blades delivered right to your door. However, this hasn't always been as easy for women as it has been for me.
That's because most shave clubs have been aimed at men looking to tackle tough facial hair, leaving women in the lurch. The advent of online shave clubs for women has made the prospect of a smooth, clean shave a lot of easier for women of different ages and body types.
Is All Girl Shave Club an ideal option for your shave needs? Use this guide to learn more about All Girl Shave Club as well the pros and cons of the service. They could be the perfect option for you.
All Girl Shave Club Background
All Girl Shave Club started in 2016 with the goal of making shaving a better, more cost-effective experience for women. Like many smaller online shave clubs for women, the main goal of the brand is to give women a quality shave without paying the high prices that many drugstores and big box brands offer exclusively.
What makes All Girl Shave Club different than your typical men's shave club? According to the owner of the brand, the whole concept was to make shaving a little more fun for women without the pink razor style and cost of conventional blades. Paired with the convenience of a subscription service, this has made All Girl Shave Club a big hit with many women.
All Girls Shave Club Pros
Online shave clubs for women like All Girl Shave Club are slowly chipping away at the drug store razor blade industry. Here are some of the most popular pros you'll find when researching the brand based on user reviews:
• All Girl Shave Club offers an excellent starter kit for first-time customers. This includes a rose gold razor, six-blade razor replacement pack, safety cover, and glitter storage tote. This starter pack only costs $18, which many customers find an exceptional bargain in the world of online shave clubs for women.
• The company offers a wide range of different products for their subscribers. They even include items like hair conditioner, showerless shampoo and conditioner, eyelash curlers and an assortment of beauty products.
• All Girl Shave Club offers rose gold and a variety of different handle options for their blades. Many customers like the look of the product and enjoy how the blades work and the subscription process much more than disposable razors.
• You can stop your subscription at any point or put items on hold if you've got enough refill blades. You can also stop portions of your subscription at any point if, for example, you need more blades but you have enough shaving cream or post-shave balm to last you a while.
All Girls Shave Clubs Cons
All Girl Shave Club is popular and growing each day, but that doesn't mean everybody has fallen in love with the service. Here are some of the most commonly discussed cons when dealing with All Girl Shave Club:
• Shipment costs $12 in Canada. While this is obviously not a concern for US customers, many Canadian customers who try the brand regret having to pay the shipping fee. It makes the razor blade subscription cost considerably more than other brands, though it may still be cheaper than buying drug or grocery store blades.
• The company doesn't provide free shipping on products other than razor blades. This includes items like shave cream. However, shipping is covered if you order more than $35 at once.
• Contacting the company to ask questions is hard. While All Girl Shave Club does have an e-mail address for questions, there's no form or another way to provide feedback. This seems to bother some consumers who have questions about their shipment or have received a product that is late or defective.
All Girl Shave Club Bottom Line
All Girl Shave Club is growing in popularity on a regular basis, and for women who want more than a men's club can offer, it could be an excellent alternative to shopping at the drug store. The sheer number of specialty products and accessories they offer also makes them a big hit if you want to be able to stock up on everything from lip balm to bath candles all at once.
While there are other online shave clubs for women, All Girl Shave Club is an excellent choice. With their $18 starter kit, you can easily try out the service to see if their aesthetic and quality matches your needs for an ideal shaving experience.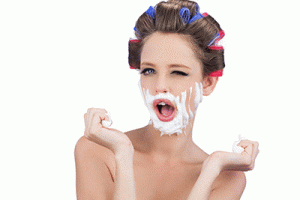 Advertising Disclosure: This post may contain promotional links. Watch the Review may be compensated if you use these links.