Allied Van Lines
Moving can be a big chore that puts a ton of stress on your plate. There's a good chance you can't take weeks off work to get the job done, either. Add in kids and pets and you've got a high-stress nightmare just waiting to happen.
The fact is that even same-city moves can be difficult. If you're going a great distance – like moving to a new state – the seemingly simple task of moving your stuff from one home to another becomes gargantuan. That's the reason most people hire moving companies to help them through the process.
Even weighing your options when it comes to different moving van lines can be difficult though. At the top of the heap with other high-profile companies, Allied Van Lines aims to give customers a pleasant, easy experience whether you're moving down the street or across the country.
Is Allied Van Lines a smart choice for your needs? Read our review to learn more about Allied Van Lines for your next move.
The History Of Allied Van Lines
Founded in 1928, Allied Van Lines was originally started to help with commercial trucking issues like dead-heading. In 1968, the company moved to a public entity. By 1999, Allied Van Lines had merged with North American Van Lines, their largest competitor at the time.
Today, the company is valued at nearly $500-million, making them a major player in the moving marketplace.
Allied Van Lines Pros
Allied Van Lines is a popular service for homeowners who need to move from one place to the other, with many rave reviews available online. Here are some of the pros you'll find when researching Allied Van Lines online:
• It's easy to customize your move. Allied Van Lines offers an a la carte moving service, allowing you to pick and choose what you need to make a successful move. This means that you only pay for what you need, making pricing options more transparent.
• Online tracking is available and it works to help you know where your belongings are during your move. Most people want to know where their belongings are during a move, particularly if they arrive at their destination days ahead of their furniture, computers, and other essentials. With online tracking from Allied Van Lines, you can get a real-time update via their live tracking service. You can use this live tracking day or night to see where your items are and what their expected arrival date is.
• Allied Van Lines offers custom crating, making it easy to move hard-to-move objects safely. This is particularly important for people with fragile objects like art. Businesses with specialized, costly equipment can also take advantage of custom crating through Allied Van Lines.
• They offer a bevy of special services like auto transportation, appliance connection, and disconnection and trash and debris removal. This makes the moving experience much easier for homeowners, particularly if you don't have the time or ability to handle these things on your own due to work or child care concerns.
• There are a variety of storage options if you can't immediately take possession of your belongings. This can make moving much easier if you're buying a new home or living in a short-term rental in a new area while searching for a long-term home.
Allied Van Lines Cons
Allied Van Lines gets high scores from many residential and commercial customers, but not everybody has had an overwhelmingly positive experience. Here are some of the cons you'll read about when checking up on Allied Van Lines:
• There have been reports of poor customer service at some locations. This does seem to vary from location to location, but not every customer has had a positive experience with customer service representatives. This includes getting a quote, scheduling a move, or reporting an issue during the move.
• Reports of broken, damaged, or missing items are lacking in many cases. While Allied Van Lines does offer damage reports, some customers have said that they are incomplete and that items damaged may not be listed. Some customers have found damage or issues later when unpacking or using items in their new homes only to find it wasn't reported by Allied Van Lines.
Allied Van Lines Bottom Line
Allied Van Lines is a great choice for many residential or commercial customers looking for a top-tier moving company with lots of options. From boxes to custom crating and auto service, Allied Van Lines can handle pretty much any moving tasks.
Issues with Allied Van Lines are also minimal, particularly if you have a positive customer service experience when scheduling your move. While some local branches have had more customer service complaints than others, most users are satisfied with their overall moving experience.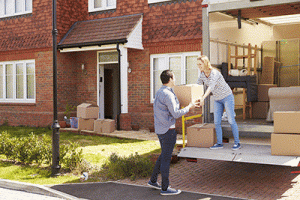 Advertising Disclosure: This post may contain promotional links. Watch the Review may be compensated if you use these links.