Disney+
TV has reached a new golden age and our access to movies, kid's shows and more is greater than it has ever been. Today, you can easily get access to more than you could watch in a year for about $10 per month.
A major player in all things media, Disney has also launched its very own streaming service, allowing access to closely-guarded Disney content and a host of original creations. However, if you're like a lot of people already paying for multiple streaming services, you're not quite sure if you need to add another monthly subscription charge to your credit cards.
Is Disney+ a must-have streaming service for you? Use this guide to learn more about the service and the pros and cons of signing up.
History Disney+
Available as of November 12, 2019, Disney+ grew out of the Disney media company's desire to separate from other streaming services like Netflix and capitalize on the growing – although very large – streaming market. The Disney+ service launched in the United States, Canada, and the Netherlands, with Australia, New Zealand, and Puerto Rico coming on board a week later. Plans continue offering the service in other parts of the world continue as of January 2019.
While the desire to showcase original content and give the public access to classic Disney movies was a big force in the desire to develop Disney+, it's also important to note that Disney acquired 21st Century Fox in March 2019. This gave Disney ownership of flagship shows like The Simpsons, which perform particularly well on streaming services today and are expected to do so in the future.
Disney+ Pros
Disney+ is getting rave reviews from Disney film lovers, TV show enthusiasts, adults and kids from all walks of life. Here are some of the Disney+ pros to consider if you're not sure this new streaming service is right for you:
• You get access to many classic Disney movies and 21st Century Fox film. From Star Wars to classics like The Jungle Book, Disney+ has a range of programming for kids and adults. While much of the content is for a younger audience, this is actually a plus for parents. Many adults will also enjoy going back and watching childhood favorites now that they're a little older even if they don't have kids.
• You can access Disney+ from almost any platform. Available via a web browser or a downloadable app, you can use Disney+ on almost any modern computer, as well as streaming boxes like Roku, Apple TV, Amazon Fire and more. PlayStation 4, Xbox and many smart TV designs also allow easy integration of the Disney+ app. If you have a device that allows you to use Netflix, Amazon Prime Video or Hulu, you should be able to add Disney+ to your library in a matter of minutes even if you're not particularly tech-savvy.
• Finding what you're looking for is quite easy via the search function. An assortment of categories also makes it easy to find content if you're not sure what you're in the mood to view. You can even download Disney+ content to watch later.
• A variety of resolution and audio options are available. From UHD 4K to surround sound and Dolby Atmos content, Disney+ has a lot to offer for the film-lover and audiophile. Of course, Disney+ movies, TV shows, and content also work seamlessly on older TVs and more modest setups.
• Content is available in different languages. English, Spanish, French, and Dutch are among the languages available on the site. Original, newly-created Disney+ content is available in even more languages.
• Disney+ is affordable, even compared to other streaming services. While Amazon Prime Video is often bundled with the Prime delivery service, Disney+ costs $6.99 per month or $69.99 per year. This is about 30% to 50% less than other streaming services currently on the market.
Disney+ Cons
Disney+ is a big hit with fans all over the world, but not everybody is going wild over the new streaming service. Here are some of the more common cons that you'll read about when doing your homework on Disney+:
• The app launched with some technical difficulties that users found frustrating. Developing an app that's functional and user-friendly can be tough, and it seems like some technical difficulties were present at first.
• Many consumers don't feel like they need an additional streaming service. While this isn't necessarily an issue with Disney+ or its content, the fact is that Disney+ is, as others have put it, a little late to the streaming party. In fact, many consumers already have multiple streaming services. Even users who decided to cut the cable cord are spending nearly $40 per month for video and music streaming services as is.
• There's too much pressure to bundle Disney+ with the brand's other channels like ESPN+ and Hulu. This complaint may have more to do with streaming fatigue than the value provided by bundling all three services for $12.99 per month, which is a relatively good bargain compared to buying them separately.
Disney+ Bottom Line
Disney+ is a popular streaming service already, though it is still in its infancy, having launched in late 2019. The streaming service is still not available in many parts of Europe, so the estimated 10-million users are likely to grow quickly when it does.
If you want to watch classic Disney content, Disney+ is a no-brainer. If you aren't already locked into multiple streaming services, or you feel like trying something new that may provide better content for you and your family, Disney+ is an excellent option. With its range of kid-friendly choices, it's also a perfect pick for families.
For less than a large popcorn at the movies, you'll get access to many classics and an assortment of favorites, new shows, and original creations.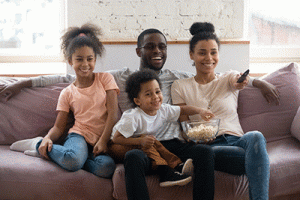 Advertising Disclosure: This post may contain promotional links. Watch the Review may be compensated if you use these links.