Expedia Review
Expedia is a popular online travel site that was built to help consumers find better prices when booking travel. While many people use Expedia to find flights at lower fares than the airlines themselves publish, Expedia offers a wide range of services. In fact, you can book almost all aspects of your trip through Expedia, including flights, hotels, car rentals and vacation homes. The service even helps users book cruises so they can enjoy a vacation on the sea instead of on dry land.
Expedia is certainly a popular travel site, but are they one that should be a go-to for you when you're booking travel for business or fun? Keep reading to learn more about Expedia and how it stacks up.
Expedia Company Background
Now a major player in the online travel business, Expedia opened its office doors in 1996 as a division of Microsoft. In 2001, Microsoft owner and founder Bill Gates made the company public, putting them on the market as a publicly traded company. Notable CEO Rich Barton came on board, which gave Expedia some extra firepower as a company, helping the value of its stock rise.
While timing certainly played a role in Expedia's success since the early 2000s were a great time for up and coming online travel sites, the company was sold in 2001 to USA Networks. Despite having grown rapidly, the company has experienced some issues with airlines in particular. AMR Corporation, the company that owns American Airlines and American Eagle Airlines, pulled all of their flights over a price dispute for more than a year. Today, American Airlines flights are back on Expedia after an agreement was reached.
As the company continues to grow, they've built unique partnerships with companies like Citibank, announcing a special Expedia + Citibank credit card where members can earn bonus points and get priority service. Expedia also began accepting Bitcoin in 2014, making them a somewhat revolutionary player in the cryptocurrency market.
In 2015, the company announced that it would be moving its headquarters to Seattle. This is scheduled to happen in 2019.
Expedia Pros
Expedia is one of the most commonly used travel sites out there. Poll 10 travelers going out of town for work or pleasure and you'll likely find that at least half of them checked the site to see if they could get a better rate for a flight, hotel or car rental. Many people also use the service to find excellent packaged deals that provide everything they need in one go.
A lot of travelers enjoy their experience using Expedia, which helps the pros really add up.
Expedia Pros Include:
• Smart search criteria helps you narrow down the most important information first so you only see relevant flights, hotels, car rentals and more. You can then refine your search further to better match your needs.
• The site is easy to use and navigate. A strong layout makes searching and finding the information you need quick and relatively painless.
• Expedia makes details and baggage fees easy to find on every flight listing. This way you don't have to guess about how much you'll play for baggage or resort fees when you book a hotel.
• You can check other sites through the Expedia interface. Delta Airlines and Alaska Airlines are just a few. Companies that don't offer flights through Expedia like Southwest can also be searched. This makes comparing rates for your trip easier.
• Switching between flight, hotel or car rental only and packaged deals is quick. By doing this, you'll get to check and see if you'll save money by booking together or if Expedia only offers the best rate on one or two of the services you need for your trip.
Expedia Cons
Expedia Cons Include:
Shopping for travel-related services online can be a little tricky for some people. Here are a few of the common complains and cons you'll see about Expedia:
• Deep filters can be irritating or overwhelming to customers. Choices are good, but having to fill out a long, form-like application before seeing flights bothers some online users.
• The site puts too much emphasis on bundled travel deals. Many people who just want a flight, hotel or car rental find this to be frustrating and counter-productive for their needs.
• Expedia pushes customers to take advantage of offers like credit cards, rewards points, and bonus points too much. Some customers who just want to get the best price say the offers drive them to other sites that have less promotional material.
Expedia Bottom Line
Expedia is a popular travel site because it's well laid out, fully-functional and offers everything you'll need to book a trip, from just a flight to a whole packaged deal. Some people may not love every detail of the site or its promotional nature, but you can use Expedia to book, save and get on your way.
As with all travel sites, your best bet is to always check at least two to see what's available. Expedia makes that particularly easy with an on-page checker that allows you to access direct prices from certain Airlines. All in all, Expedia is a top travel site that you should definitely check when booking any part of your work trip or vacation.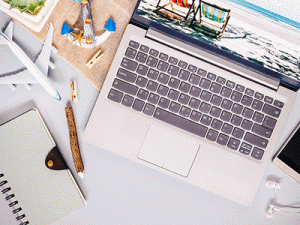 Advertising Disclosure: This post contains affiliate links and at no additional cost to you, Watch the Review will be compensated if you make a purchase after clicking on these links.