GoDaddy
Building a website used to be the domain of tried and true professionals that spent years learning technical code like HTML. While you can still hire pros to build your website, more and more individual users and small business owners are turning to website building services that make it easy for you to handle everything on your own from start to finish.
Don't have any web design skills? No sweat. Today's web design services are platforms designed to simplify the process through templates and easy to follow instructions for the average user. That means you can build your website in an afternoon even if you've got a fairly complex business or have multiple products to offer to your customers.
Among the most popular website building services in 2019 is GoDaddy. Aimed at the novice individual and small business market, they're a viable solution for anybody trying to build a website for everything from art promotion to e-commerce.
The History Of GoDaddy
Founded in 1997 in Baltimore, Maryland by Bob Parsons, GoDaddy initially started as a financial services business for the internet. However, over time, the company shifted its focus to providing online solutions for individuals and small business owners.
As of 2019, GoDaddy is still predominately a company that focuses on providing domain names and web hosting. Today, more individuals and small business owners move toward building their own site, that sector of the company is growing as well. Like most other online sites of this nature, GoDaddy uses mostly template-based designs to give users flexibility without a lot of background knowledge on web design.
GoDaddy Pros
GoDaddy is a popular web design service that a lot of people are using these days. In fact, most customers that use the service are incredibly satisfied with it. Here are some of the common pros that you'll read about when researching GoDaddy:
• You can choose a variety of different plans based on how much you want to pay. Plans range from about $5 per month all the way up to over $20 per month. However, many GoDaddy plans, even for premium business e-commerce plans, are quite affordable. That's one of the main selling points for the service.
• The editor that you'll use to customize your chosen template is very easy to use. Many customers rave about how easy to create a wonderful website GoDaddy is for this very reason.
• GoDaddy offers a ton of different marketing integrations. If connecting to Google, Facebook and other platform is a must-have for you, GoDaddy is an ideal choice.
• It's easy to build an e-commerce site through GoDaddy. Many business owners who want to sell a product find it very easy to begin selling on GoDaddy very quickly. This may be particularly important if your whole business is based around internet sales.
• You can use HTML and JavaScript with GoDaddy. For advanced users who already know a bit about these things, this can make the somewhat limited templates offered by GoDaddy much less problematic.
GoDaddy Cons
GoDaddy receives a lot of positive reviews from customers, not every rating they give is a five-star one. Here are some of the most common complaints you're likely to see when researching GoDaddy online.
• GoDaddy quotes their prices for a one-year contract, not for month to month service. While a year isn't particularly long for a business, this can off-putting for some customers who would prefer a monthly obligation. However, most consumers believe the low prices offered are more than enough incentive to sign up anyway.
• GoDaddy does not include domain name pricing in any of their plans. Instead of including domain names, you must purchase on separately. Though you can do this through the service, many other website design companies make it a little simpler to get your domain name as part of your package. Most even include a free domain name for the first year with a payment due each year after that.
• Some customers feel like the templates provided are not varied enough for their liking. While most agree that the templates are of high quality, some customers complain that they're all too similar and that there are not enough to choose from.
GoDaddy Bottom Line
GoDaddy is getting more and more popular as an all-in-one website design service. However, the focus of the company is still on domain names and web hosting, which are two things they absolutely excel at. While their templates may be lacking according to some, more advanced users love the fact that you can use HTML and JavaScript easily.
As with most online services, there are a lot of competitors GoDaddy is up against. Do your homework and you'll find the right web design service for your needs.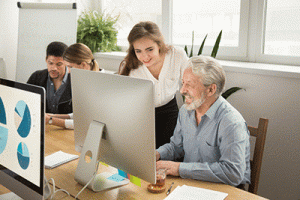 Advertising Disclosure: This post contains affiliate links and at no additional cost to you, Watch the Review will be compensated if you make a purchase after clicking on these links.