GoToMeeting
Flying across the world to meet with another business is a thing of the past. In many cases, so are offices where everybody can just walk down the hall and have a conversation about a group project. For those reasons, using video conferencing software is more important than ever.
With a focus on small and large business needs, GoToMeeting is an excellent solution for collaborative work or meeting with other businesses anywhere on the globe. Use this review to learn more about GoToMeeting and find out whether their specialty software is the right pick for your needs.
The History Of GoToMeeting
Developed and marketed by the LogMein company, GoToMeeting was created in 2004 to allow users a platform for video conference calling and screen sharing. In 2015, the company launched a standalone version of GoToMeeting for business with a valuation of nearly $4-billion at the time.
Today, the service is widely used by small and large businesses in a number of sectors. GoToMeeting received the 2016 and 2017 Codie Award for the best collaboration solution.
GoToMeeting Pros
GoToMeeting is a popular video conferencing software today. That's why lots of users have plenty of good things to say about GoToMeeting. Here are some of the pros you'll find when reading about GoToMeeting online:
• There's an easy to use app that allows users on the go to access GoToMeeting. This is very important for people who travel a lot and want to reach out to friends and family using GoToMeeting. This feature is also a must-have for independent contractors and business owners who need to have GoToMeeting calls even when team members are on the road or away from their office or home office.
• GoToMeeting offers easy screen sharing. For business users, this can make using GoToMeeting a smart choice when you need to make a presentation or work with multiple people at once on a specific project. Most users report that screen sharing through GoToMeeting was very easy to understand even the first time they did it.
• It's easy to retain information presented in a call by simply recording the event. Unlike some video conferencing software solutions, GoToMeeting makes it easy to record calls so you can watch them later. This is also helpful if you're working with a group and one or more people are unable to attend at the time of a call. Transcription is also available so you can have a documented version of your call that can be read instead of watched.
• They make it easy to get the hardware you need for high-quality conference calls if you're working in a business environment. While individuals likely won't need all of this, businesses – even small ones – can create higher quality video conferencing meetings using dedicated hardware. GoToMeeting makes it easy for you to get the hardware you need to work quickly and efficiently in your office.
• The cost for GoToMeeting Professional is fair if you need more features. Starting at $12 per month, you can get added benefits like HIPAA compliance, Siri voice command, and Office 365 access. Other, more expensive tiers are available, but many small business owners can greatly benefit from the $12 per month plan.
GoToMeeting Cons
GoToMeeting may be popular, but not every individual, family, or business user who has tried it would leave a rave review of the service. Here are some of the more common cons you'll find when doing your homework on GoToMeeting:
• The software crashes from time to time. With GoToMeeting, you need a clean, secure connection to the internet. Individuals with less-than-perfect broadband internet may find that the software closes on its own when an internet disturbance occurs.
• GoToMeeting is lacking when it comes to chat features. While there are alternatives like Slack you can use in conjunction with GoToMeeting, some users would like to see this video conferencing software have more chat capability built into it.
• There's no free plan available through GoToMeeting. GoToMeeting does offer a 14-day trial for new users, but many feel that this isn't enough time to really see if the software is going to work for them before they start paying for a plan.
GoToMeeting Bottom Line
GoToMeeting offers impressive solutions for large companies, small business owners, and independent contractors. Since their focus is primarily in the business world, it may not be the ideal solution for individual users. It simply lacks some of the features that other offerings like Zoom and Skype have.
However, the robust network is always at the top of "best of" lists for business users. If you have a high-quality internet connection and need stable, reliable conference calling with great screen sharing options, GoToMeeting may be the perfect solution for your needs.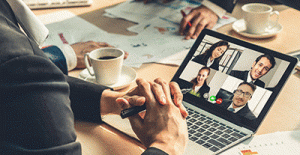 Advertising Disclosure: This post may contain promotional links. Watch the Review may be compensated if you use these links.