H&R Block Tax Software
Doing your taxes is something a lot of people put off for as long as they possibly can. Once April 1st pops up on your calendar though, you know you can't hide from tax time anymore! The good news is that filing your taxes is not nearly as tough as it used to be.
Today, filing your taxes is something you can do in an afternoon if you've got a fairly simple financial situation. For example, if you've got one employer and are single, you may be done with your taxes in about as much time as it would take you to make and eat a sandwich. You could get a pretty big refund out of the IRS, too.
With more and more online tax preparation software options available to you though, there's a good chance you're not quite sure where to turn when it's time to tackle your taxes. The good is that you're not alone. Use this guide to learn more about H&R Block and whether their service is an ideal option for you.
The History Of H&R Block Tax Software
H&R Block is a very old company, and in fact, their lineage goes back way before the days of online tax preparation software. Founded in 1955, the brand has continued to grow and now handles taxes online as well as in its store locations through CPAs.
H&R Block tax preparation software launched in 2014 and you can now use an online version as well as a software version for completing and filing your taxes. From 2008 to 2013, a similar program, also owned by the company, was available under the name H&R Block at Home.
H&R Block Tax Software Pros
H&R Block gets a major thumbs-up from many online and software users who swear by the program. Here are some of the most common pros that you'll read when doing your homework on H&R Block tax preparation software:
• Pricing. According to many regular users, the pricing offered by H&R Block for their tax preparation software and online services is less than competitors. Low pricing is ideal for individuals who have less complicated taxes and small business owners who need to keep costs down.
• The ability to tailor your plan to your needs. With H&R Block, you can choose from a range of different plans all designed to help you get the most out of your tax software. For example, you can choose from a free plan, premium plans or plans designed for more complex business needs.
• An easy to use interface. Many customers love the simple interface that the system uses. Many find it to be much less perplexing than the traditional paper forms you get from the IRS.
H&R Block Tax Software Cons
While most users who take advantage of H&R Block tax software instead of their CPA services love the product they get, not every review is a downright rave. Here are a few of the more common negative comments you'll find when doing researching on H&R Block online or software-based tax preparation services:
• They push their tax expert services on customers a little too much. While having a tax expert look over your work to make sure you've maximized your return in your favor can be helpful, it's not something that everybody will need. For the average person, tax preparation software is intuitive and easy to work with without the added expense of a professional. However, you can still use H&R Block without their additional expert assistance.
• The company tries to get customers to upgrade when a basic plan would suit their needs. This is a common complaint of almost all tax preparation software and online services. H&R Block does not seem to push their customers to upgrade any more than other similar brands.
H&R Block Tax Software Bottom Line
H&R Block is a well-known and well-respected financial institution. However, what they're really known for is their CPA services, which are still available throughout the year and during tax time. If you need these services in addition to your online software, H&R Block can be an excellent choice. Still, low pricing makes H&R Block and an excellent option for many consumers who can tackle everything themselves on their own computer.
For many users, H&R Block will be an ideal choice. Are they right for you? Take your time and do your homework to make sure, but they could be a sound financial pick when it's time to handle your federal and state return.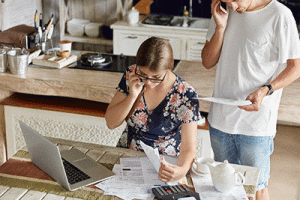 Advertising Disclosure: This post contains affiliate links and at no additional cost to you, Watch the Review will be compensated if you make a purchase after clicking on these links.