HopSkipDrive Review
HopSkipDrive is a transportation service specially created for kids. Providing daily transport to and from school as well as facilitating carpools with other families, HopSkipDrive has a variety of flexible services for parents and guardians. All drivers have more than 5 years of childcare experience and are subject to background checks and TrustLine registration. Vehicles need to pass strict standards and are inspected by certified mechanics.
HopSkipDrive Pros
Drivers are fingerprinted and subject to a strict vetting process. They must also complete a driver orientation program before they can work with HopSkipDrive. Parents can track their child's journey in real time on the HopSkipDrive app and can request for the driver to knock on the door at pick up time so that they can meet in person. Kids create a code word that their driver will confirm for an extra level of safety. Parents receive a text confirming pick up and drop off of their child and can access customer support by email and phone.
HopSkipDrive Cons
HopSkipDrive currently operates only in certain areas of California and in Denver, Colorado. Parents need to book a ride 24 hours in advance of the journey. HopSkipDrive only provides transport for children aged 6 years old and upwards.
HopSkipDrive Bottom Line
HopSkipDrive provides a range of transport service with clear pricing data and a high level of security. Parents have the option of meeting with drivers in advance of rides and can monitor their children's journeys from start to finish. Drivers are subject to the highest vetting standards and must complete an orientation program. All journeys are monitored in real time by HopSkipDrive.
HopSkipDrive | Family Rideshare
Ridesharing has revolutionized the way many people get around. However, when it comes to ridesharing apps a big segment of the population is still largely ignored: children. Not only do the big ridesharing companies, like Uber and Lyft, forbid children from using their services without being accompanied by a parent, but many parents likewise feel uncomfortable about letting their children ride in a car with a stranger. That's where HopSkipDrive comes in.
How HopSkipDrive Works
Like other rideshare programs, to use HopSkip rive you will need to download their app. You then make an appointment for when you want a driver to pick up your children. HopSkipDrive will send you the driver's profile, so your children will know who to expect. You can choose to use the app either for just your own children or as part of a carpool, whereby your driver will pick up your child along with children from at least one other family.
HopSkipDrive Pricing Plans
The cost of using HopSkipDrive varies depending on the city, time of day, and the length of the trip. The single-family minimum fare is $16 for Los Angeles/Orange County, $18 for San Francisco, and $15 for Denver. Prices per family are cheaper if you choose the carpool option. The minimum per family carpool fare is $7 for Los Angeles/Orange County and San Francisco and $6 for Denver.
Regions Covered By HopSkipDrive
Currently, HopSkipDrive is only available in Los Angeles/Orange County, San Francisco, and Denver. However, the company does have plans to expand into more markets in the near future.
General Wait Times With HopSkipDrive
Trips with HopSkipDrive must be arranged in advance. Trips that are scheduled to occur after 10 a.m. must be booked at least 8 hours before pickup. For rides scheduled to occur before 10 a.m. then you must book your driver by 7 p.m. the evening before.
Is Tipping Allowed With HopSkipDrive?
The HopSkipDrive app does not include a tip option and tips are not expected. However, the company does not have a policy against tipping and you are free to offer your driver a tip as a token of appreciation.
HopSkipDrive Driver Background
Safety is a paramount concern when letting a stranger drive your children around. HopSkipDrive has a 15-point certification process for all of its drivers, which include 5 years of experience working with children, criminal and sex offender background checks, clean DMV records, and a 19-point vehicle inspection. Drivers must also provide their fingerprints and abide by the company's zero-tolerance policy for smoking, drugs, alcohol, and mobile device usage while driving.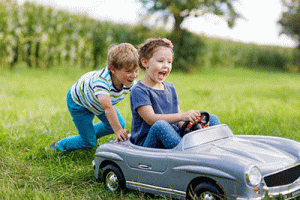 How It Works
Users begin by installing the HopSkipDrive app which is available for free on the App Store and Google Play. Parents then register their child on the app or via the HopSkipDrive website. During registration, users can add locations, special instructions and can also add a special security question. Once the child is registered, the user can now start scheduling rides. Parents must enter their required journey 24 hours in advance. When the ride is confirmed, they receive a photo of the driver as well as their driver and vehicle profile. The app allows parents to monitor all journeys in real time.
Plans & Pricing
There is no charge for installing the HopSkipDrive app and users do not have to pay any membership or subscription fees. Carpooling options are available for as little as $7 per ride. The HopSkipDrive website and app have clear pricing information so it's easy for users to calculate how much they will pay. Gift cards are available via the website.
Member Services
HopSkipDrive offers regular daily transport to children to and from school. The platform also provides group transportation for sports teams to get to events or for students on field trips. The HopSkipDrive Carpooling service allows parents to develop custom carpool routes, reducing traffic as well as saving time and money. HopSkipDrive also provides transportation for senior citizens.