International Van Lines
You love your home, but whether you've taken a new job across the country or you've simply outgrown your space, moving is now a must for you. Perhaps you've finally decided to downsize so you can have more money for travel and parts of your life that really matter more to you.
While deciding to move can be difficult, the physical process of getting the job done is extremely complicated. Add in the fact that most people have tons of belongings even in small spaces and you can be looking at weeks of packing and moving. None of that includes drive an extra-large truck or paying for shipping.
Moving companies like International Van Lines want to make the process of moving easier for residential and commercial customers. After all, few people have the expertise required to make a long-distance or inner-city move without some serious headaches.
Should you hire International Van Lines for your next move? Use this review to learn more about the history of the company and the pros and cons of hiring them.
The History Of International Van Lines
Started in the year 2000 as an international moving and logistics company, worldwide service is still a big selling point for International Van Lines. Today, however, the company takes on in-town moves for apartments, condos, homes, and businesses.
Long-distance moves are also a primary focus for International Van Lines, making them a top pick for people who need to move 1,000 miles or more.
International Van Lines Pros
International Van Lines has a lot of happy customers that recommend the company for commercial or residential moves. Here are some of the pros you'll read about when checking on the brand:
• They offer moving services for very long distances, including out-of-country moves. The International Van Lines port-to-port service is particularly popular, which ships your goods via cargo across oceans and water passageways to your destination. Combined with other moving options, this makes International Van Lines a very versatile option for a full-service move no matter where you're going.
• International Van Lines offers a range of storage options that can be helpful for homeowners and business users moving to a new location. Weather-proof containers on-site allow you to unwind and unpack at your pace. Warehouse-based storage is also an option if you won't be in your new home or place of business for weeks or months after your move. Having the ability to plan for storage at the same time as your move is particularly convenient for a lot of people.
• Some moving plans include bonuses for free, like a free month of storage. These are particularly popular with users who have had a good experience with International Van Lines in the past.
International Van Lines Cons
Not everybody loves International Van Lines despite lots of positive reviews available on the internet. Here are some of the cons you'll need to keep in mind before hiring them for your move:
• Pricing isn't particularly transparent and a lot of people are unsure about exactly what they're paying for versus what they aren't. This is a common complaint with International Van Lines, and many people feel that their quotes are confusing.
• Your end price may be higher than what they quoted you. This may stem from the fact that they commonly offer very high promotions – often up to 65% off for their services. In the end, you may not get a 65% discount once added fees and expenses creep up on you.
• There have been reports of movers showing up late. Some reports indicate that belongings are often delivered late as well, though it's unclear how these reports compare to the tardy rates of other moving companies handling in-town or long-distance moving.
International Van Lines Bottom Line
International Van Lines gets a lot of positive reviews, but unclear pricing, price changes, and tardy movers have marred the company's reputation. It's fairly easy to see this if you do a basic, cursory search to see what past customers have said about them.
However, it's important to note that when it comes to international moving, few companies can do what they can. You should also remember that your particular branch and the individual movers you work with will impact your move much more than the corporate International Van Lines employees will.
What does that mean? It means that you can have a positive experience with International Van Lines, especially when you consider the deep discounts provided for some of their bookings. Proceed with caution, but do get a quote from this well-known moving company if their offered services fit your needs.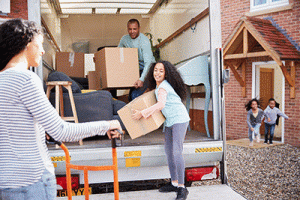 Advertising Disclosure: This post may contain promotional links. Watch the Review may be compensated if you use these links.