Kelly Blue Book
If you've ever tried to buy a car before you know that it can be a harrowing journey full of unscrupulous salesmen and an endless week of browsing car lots. What if buying a car didn't have to be quite so difficult though? With a variety of car buying apps on the market, the way most people shop for a new or used car has shifted dramatically in the last 10 years.
While there are lots of tech-based car buying apps available today, few have a name as well-known as Kelly Blue Book. Are they a good option for you though? The answer is going to require some homework on your part. Use this guide to learn more about the brand and figure out if their app is the right solution to match your needs.  Your new car is waiting!
The History Of Kelly Blue Book
Founded in 1918, Kelly Blue Book first used data from the Model T Ford to devise a system for valuing vehicles. First published in 1926, Kelly Blue Book quickly grew. By the 1960s, the Kelly Blue Book was an industry standard that was widely used by sellers and buyers to determine what a vehicle was worth.
In 2010, the company was purchased by AutoTrader. Today, they still publish car valuations, allowing users to find fair market value with ease. They've also linked their valuation system in with an online site that can quickly connect buyers with sellers, though the focus remains on valuation and information.
Kelly Blue Book Pros
Kelly Blue Book has been extremely popular for a number of years, likely because of the name recognition the brand brings. For many consumers, the car buying app is an invaluable resource. Here are some of the commonly listed pros you'll find on the web when doing research on Kelly Blue Book:
• You can get in-depth information about the performance of a certain vehicle you're considering buying. You can also see top-rated vehicles within a certain class, which makes it easier to compare if you know you're looking for a certain type of vehicle.
• It's easy to get a breakdown of what you should expect to pay for a new or used car. This has traditionally been the selling point of Kelly Blue Book. Most consumers would say that the digital version is every bit as good.
• You can learn about both new and used cars when you're using the Kelly Blue Book app. That makes the service very popular when a buyer isn't quite sure what they're looking for or what they can get for their budget with a particular search radius.
Kelly Blue Book Cons
Kelly Blue Book gets lots of positive reviews from users. Not every mention of the brand is entirely positive though. Here are some of the more negative reviews that you can find on the internet:
• Actually buying a vehicle through the Kelly Blue Book app can be somewhat difficult according to some users. However, it should be noted that while this is possible, it is not the main goal of the app. Instead, the idea is to find vehicles in your area that match your criteria and learn what a fair price for that vehicle really is.
• There are not enough cars available for sale. While Kelly Blue Book does help buyers connect with dealers, the goal of the app is still information and pricing. That's where it truly excels.
Kelly Blue Book Bottom Line
Kelly Blue Book gets a lot of positive reviews from consumers looking to buy a new or used car today. However, with so many different options on the market right now, you'd be doing yourself a disservice if you didn't check out a few others at the same time.
Spending just a half hour with a handful of car buying apps could dramatically improve your search and help you cut down on the time you spend shopping for a vehicle. Even better, the right app could help you find the right car at the best price. As with most things in life, shopping around – even when you're shopping -is always the best course of action.
With that said, buying a car through Kelly Blue Book is still a secondary service. What the company really offers is a better understanding of fair market value for new and used cars. That means that Kelly Blue Book can be a great addition to another type of service that allows you to more easily connect with dealers and actually purchase a car.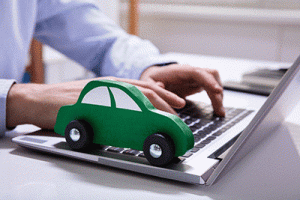 Advertising Disclosure: This post contains affiliate links and at no additional cost to you,  Watch the Review will be compensated if you make a purchase after clicking on these links.