KitNipBox
Pet subscription boxes are practically everywhere you look these days. In fact, you probably can't even turn on the radio, television or listen to a podcast without hearing about one. If you're a pet lover, that's probably not a bad thing!
If you're considering a subscription service for your pet, there are a lot of different options out there. You may even be having a tough time choosing one that's going to work for you. We're here to help you learn more about the unique pet subscription service KitNipBox.
Is KitNipBox the ideal choice for you and your pet family members though? Keep reading to learn more about KitNipBox so you can make an informed decision for you and your pet.
The History Of KitNipBox
KitNipBox was launched in February 2014, shipping their first boxes in May of that very same year. Since then, the company has grown quickly, expanding their reach to become the number one brand in their market sector by 2015. By 2016, the company was shipping nearly 75,000 boxes per year, showing that their brand would be viable long-term for investors.
Today, KitNipBox continues to grow and reach even more pet lovers. Their unique positioning as one of the few cat-only pet subscription box providers with unique toys has given them a valuable niche to work with.
KitNipBox Pros
KitNipBox has become a very popular pet subscription service these days and more and more people are signing up every month. With so many rave reviews from customers, it's not hard to find a whole host of pros. Here are some of the most common ones you'll find online:
• KitNipBox is affordable. With subscription plans that start at $19.99 per month, most cat lovers find that the service is very cost-effective. You can also choose larger boxes if you have two or more cats so all of your pets get the same goodies.
• It's easy to cancel your KitNipBox subscription box. Even if you love KitNipBox, you may find that you've become inundated with toys and treats. With KitNipBox, you can cancel anytime up to one week before your next box. Prepaid boxes will continue to ship even after you've canceled.
• You can choose to remove food-related treats from your box. This is great if your pet has a sensitive stomach or is on a special diet. You'll still get the other items from your KitNipBox and food items will be replaced with other goodies of equal value.
• No food products come from parts of the world with lesser food standards. All pet treats shipped by KitNipBox come from the United States, Canada, Australia, Europe, and New Zealand. This makes them an ideal option if you're concerned about where your cat's treats come from. Sometimes it's even hard to tell in stores, so getting this commitment from KitNipBox is a huge deal for many cat lovers.
• Regular customers can get 15% off by referring new customers to KitNipBox. You can get up to 15% off of every single box you order if you refer more than one friend or family member and they sign up for the service.
KitNipBox Cons
KitNipBox is definitely a popular pet subscription box today, but that doesn't everybody has enjoyed their experience with the brand. Here are some of the more common cons that you can find online right now:
• KitNipBox doesn't have offerings for dogs. While most pet subscription boxes are aimed at dogs alone, KitNipBox goes for the cat market 100%. Pet owners who have both a cat and a dog would prefer to see KitNipBox get a dog package, but there are plenty of other subscription offerings out there for them.
• Shipping charges seem high on products that are sent to Canada and Australia. However, boxes in the United States are shipped for free, which is where most KitNipBox customers reside. Considering these boxes ship from the US, the nominal fees charged are not exorbitant and fall in line with other brands.
KitNipBox Bottom Line
KitNipBox is growing in popularity all the time. Because they offer cat-friendly products in a subscription world dominated by dog toys and treats, they're one of the few options that cat lovers really have. Are they an ideal choice for you?
For most users, KitNipBox will check all the marks. Of course, the only real way to know is to try KitNipBox for yourself. Doing that is easy with a one-month subscription that allows you to see a box in person. Then you can decide whether the service is worth your hard-earned money each and every month.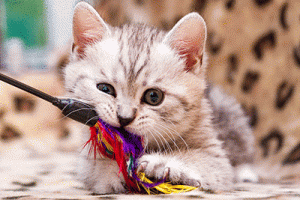 Advertising Disclosure: This post contains affiliate links and at no additional cost to you, Watch the Review will be compensated if you make a purchase after clicking on these links.