Lawn Doctor
Planting roses and tending to your garden can be pleasant–if you've got the time. The fact is that very few of us have the time. If you're doing more mundane garden tasks like watering and mowing, there's a good chance that you actually dread that time of the week.
Keeping your lawn healthy and handing pests can also require knowledge that most average people just don't have. Hiring a gardener or specialized landscape company is always an option, but if you're like a lot of people, you don't quite know where to start looking for somebody you can trust.
Companies like Lawn Doctor aim to make the process of getting the perfect lawn a little easier. Are they right for you though? Keep reading to learn more about Lawn Doctor and the lawn care service they offer before signing up.
Lawn Doctor Background
Tracking the origins of the Lawn Doctor company takes you all the way back to the mid-1960s. At this time, two friends, Bob Magda and Tony Giordano, were working in separate industries. Soon, their desire to see lawn care maintenance become more accessible to the average consumer sparked the founding of the Lawn Doctor business. The goal was to create machinery, tools, and skills that really work while keeping costs down.
Today, the brand continues to grow as franchises take on the Lawn Doctor name. For many homeowners and business customers, Lawn Doctor is the go-to name in the lawn care field.
Lawn Doctor Pros
Lawn Doctor is an extremely popular option for homeowners and commercial businesses who need help with lawn and garden spaces. They continue to grow today because of the positive reviews they regularly get from customers. Here are some of the pros you'll find when reading about Lawn Doctor:
• You can get personalized service when you sign up with Lawn Doctor. Lawn Doctor knows that no two lawns are the same, and what may work in your space may not work elsewhere. Residential and business customers are also quite different in their needs. Lawn Doctor takes all of this into account when putting together the ideal plan of action for any new customer.
• Lawn Doctor offers organic lawn products and services. For many health-conscious customers with kids and pets, avoiding potentially problematic fertilizers and ingredients is a must. Lawn Doctor makes it easy for you to get only organic ingredients used around your home.
• Lawn Doctor offers a variety of pest control services. While some lawn care companies offer only one or two types of service or a more generalized "pest control" plan, Lawn Doctor offers specialized options for your yard. That's important if you're dealing with a particular type of pest instead of simply looking to keep pests at bay.
Lawn Doctor Cons
The Lawn Doctor brand gets a ton of positive press, and in general, the company is very highly-rated by existing customers and people who have tried the service. That doesn't mean that all reviews of Lawn Doctor are positive. While you won't find too many negative reviews, there are a few complaints you might want to be aware of:
• The cost of Lawn Doctor is a little high. While Lawn Doctor is competitive with other lawn care services on the market today, some customers complain that the brand charges a little bit too much for their services. However, this doesn't mean that customers are unhappy with the overall service. Many just wish they were paying a little bit less for the care that Lawn Doctor provides.
• Lawn Doctor service is not available in a wide range of locations. While Lawn Doctor is growing, they aren't the biggest company on the block when it comes to lawn care services. That leads some consumers to contact the company only to find out that they do not live in a service area. However, the company is building each day and franchise options are making Lawn Doctor a major player very quickly.
Lawn Doctor Bottom Line
The Lawn Doctor company is a popular service that many people rave about online. With personalized service, a selection of standard and organic garden products and lots of pest control options, it's a great bet if you need special lawn care or you simply don't have time to do your own yard work.
While some customers complain about the pricing structure and that they can't get Lawn Doctor service in the area, many people feel that the brand is one of the best in the industry today. If you need help with your lawn, Lawn Doctor could be the ideal choice for your residential or commercial property.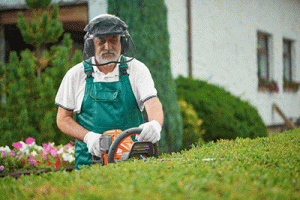 Advertising Disclosure: This post may contain promotional links. Watch the Review may be compensated if you use these links.