Maryville Online University
Getting a degree or obtaining a certificate can help you get ahead in your career. If you're years out of school, you may not have an undergraduate degree, either. This can hold you back, but attending a brick and mortar university when you've been out of the classroom for years can be pretty much impossible.
Online colleges that let you work at your own pace and study from practically anywhere in the world are ideal for many people. You'll still be able to work, care for your family, and get the education you want and need.
Read this review to learn more about Maryville Online University and see if they're the right option for your ongoing education needs. For many people, Maryville Online University could be an excellent choice for online learning.
The History Of Maryville University
Founded in 1872, Maryville University is a small private institution near St. Louis, Missouri with about 10,000 total students. As of 2020, about 6,000 of those students take part in distance learning and online classes.
Known for their business and nursing degrees, Maryville Online University is an excellent choice for students looking to find careers where they can earn a living in any job market.
Maryville Online University Pros
Maryville Online University is routinely rated in the top 25 online colleges. Here are some of the pros you'll find when attending Maryville Online University online:
• Online classes are small. About 20 students per class is common for Maryville Online University, which means that each student can get the attention they need from their professor even if they're only taking courses online.
• They offer programs in unique fields like cyber-security. These tech-based programs are on the rise and can help students find employment opportunities they may not otherwise know about.
• Students get access to an online life coach. While this is very unique, many students find it helpful, particularly if they're attending college for the first time or returning to school after a long hiatus. Life coaches through Maryville Online University can also help you with resources for tutoring and aid in the development of study skills and time management if needed.
• Students can learn at their own pace without feeling pressured to graduate in a certain amount of time. While this is fairly common for online colleges, some schools ask students to take a certain amount of classes or aim for an accelerated degree program. While you can take advantage of an accelerated program if you desire, Maryville Online University makes it especially easy for students with limited free to work on obtaining their degree over multiple years. Some students enter an eight-year program that allows them to work full-time to support themselves and their families while working toward a degree.
• Maryville Online University students have access to tech support and help. For many students, online classes are new, and the tools used to take them can be confusing or overwhelming. Tech support will work with you to make sure you're getting the most out of your online college experience.
Maryville Online University Cons
Maryville Online University gets great ratings, but not every student loves every facet of the way the online learning system works. Others have issues with a variety of factors. Here are some of the cons you'll find:
• Maryville Online University doesn't offer a lot of different certificate or degree programs. As of 2020, they offer about 50 certificate and degree programs, with about 25 of those being advanced degrees that require a previous Bachelor's. Some students would like to see more undergraduate programs.
• Attending Maryville Online University can be expensive for some students. While their tuition costs aren't out of line with other private online colleges that offer accredited distance learning programs, many students find the fees to be high. This is balanced out by the fact that class quality is excellent and you'll get a degree from a respected educational institute.
• Only about half of students receive financial aid. Maryville Online University rates relatively low in this regard, though this may have more to do with the school's demographic than your ability to get financial aid as a student. On average, about 50% of students in a particular enrollment year receive financial aid.
Maryville Online University Bottom Line
If you're looking for an excellent educational program that allows you to work at your own pace, Maryville Online University is a great option for online students. With quality instructors, tech support, and even a life coach available, Maryville Online University is a perfect choice if you can get a certificate or degree with the limited offerings available.
While the cost can be high for some students, there are financial aid options available to you if you qualify. For students looking for business or nursing certificates and degrees, Maryville Online University should be at the top of your list.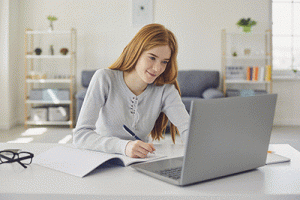 Advertising Disclosure: This post may contain promotional links. Watch the Review may be compensated if you use these links.