Merry Maids Review
The days of hiring a housekeeper through word of mouth, while still totally possible, are long-past for most people. If you're living in a new area or you just can't find somebody trustworthy, the rise of easy to use home cleaning services can only be a good thing for you.
The fact is that hiring a housekeeper used to be much more difficult, and in many cases, dealing directly with an individual created scheduling conflicts. Today, home cleaning services aim to solve those problems and still provide the customer service you're looking for.
Are cleaning services like Merry Maids really hitting the mark though? Read this review of Merry Maids to find out more about the service and if they're right for you.
The History Of Merry Maids
Many of the home cleaning services getting into the game today are just starting up. In fact, most are the product of the internet and smartphone app age, which has allowed everyday homeowners and residential customers to order special products and services on demand. However, Merry Maids got its start in 1979, making it one of the older home cleaning services still operating in the modern era.
Started by Dallen Peterson in Omaha, Nebraska as part of the ServiceMaster company, Merry Maids started as an independent brand that quickly grew into a franchise. Today, there are approximately 1,400 independently owned and operated franchises around the world.
Merry Maids Pros
Merry Maids is just one of many cleaning services that are available in the United States and worldwide. However, they are an extremely popular option because of all of the positive benefits they provide their clientele. Pros of hiring Merry Maids include:
• A wide range of cleaning services. Merry Maids offers standard cleaning services in rooms like entry areas, kitchens, bathrooms, and bedrooms. These services typically include dusting, vacuuming, hard floor cleaning, and cleaning appliances.
• Deep cleaning services included with standard plans. Merry Maids tackles some jobs like cleaning the refrigerator, wiping down baseboards and sanitizing fixtures that other services may not include. Note that some of these services are not available in all areas, so check with your Merry Maids franchise before scheduling service if you need something specific.
• Small space and apartment cleaning. Not all companies offer this, but Merry Maids does offer these services in some areas.
• Equipment and supplies are provided. This means that Merry Maids will bring their own cleaning tools and supplies so you don't have to make them available. This takes the guesswork out of cleaning for the homeowner. It also means that you can save money on cleaning supplies compared to some other home cleaning services.
• Merry Maids is licensed and bonded. Employees are also screened and trained before they visit any customer's home.
• Merry Maids sends the same cleaners to your home whenever possible. This means that the cleaners you like are familiar with your space. You'll also see a familiar face instead of a crew of strangers whenever you schedule a cleaning.
Merry Maids Cons
Merry Maids receives a lot of positive reviews from customers who try out their services. Many of these customers even become regulars because they like the service-oriented approach that Merry Maids provides. However, there may be some cons to using this particular home cleaning service. Cons of hiring Merry Maids may include:
• Lack of special services. Users in some areas say that the services provided by their particular franchise are extremely limited. For example, some franchises do not offer services like range top cleaning, oven cleaning, refrigerator cleaning or window cleaning. Always check with your franchise to see what services are offered before hiring Merry Maids.
• Confusing pricing structure. Merry Maids often charges per hour or per square foot, but some users have found that it's hard to predict pricing before arrival. While Merry Maids will provide a quote online, some users say these quotes aren't quite accurate in real life, especially if you need specific or unique cleaning services.
• Plan pricing and payments. Many customers find it difficult to get the services they need on a schedule that works. Some customers complain that scheduling multiple visits at once is not very convenient for their lifestyle or cleaning needs. However, other clients find that Merry Maids has a flexible scheduling and payment plan that works well for them.
• Crew changes. Merry Maids does aim to provide clients with the same crew on a regular basis, but this is not always possible. Some users report that they have a hard time getting the same crew, which may diminish the quality of the cleaning process as a whole.
Merry Maids Bottom Line
Offering a wide range of cleaning services designed for residential customers, Merry Maids is an excellent fit for many users. While some clients complain about the individualized pricing structure, others appreciate this attention to detail and customer service. As a whole, reviews across the board are high for Merry Maids, making them a go-to option if they have an office in your area.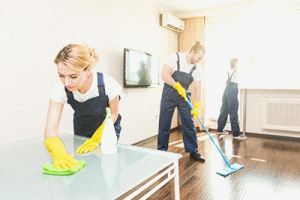 Advertising Disclosure: This post contains affiliate links and at no additional cost to you, Watch the Review will be compensated if you make a purchase after clicking on these links.