Molly Maid Review
Cleaning your whole home from top to bottom, especially if you're already balancing kids and a busy work schedule, can be exceedingly difficult. That's why home cleaning services like Molly Maid are starting to pop up more and more.
Offering a range of services designed for residential homeowners and renters, Molly Maid could be an ideal solution to your cleaning problem whether you use them regularly or just once in a while. Is Molly Maid really the right choice for you, especially with so many other cleaning services likely stationed in your area? Use this review to learn more about Molly Maid and the pros and cons of their service.
The History Of Molly Maid
Founded in 1979 by Adrienne and Chris Stringer in Canada, Molly Maid was named after the character in the 1964 film The Unsinkable Molly Brown. This cute play on words has long been the calling card of the Molly Maid brand, positioning the company as your friendly, neighborhood cleaning service that's just here to help you tidy up.
Today, the company has expanded to a variety of different countries including Japan, Portugal, the United Kingdom, and the United States. The company is now headquartered in Oakville, Ontario with more than 400 active franchises around the world.
In 1996, Molly Maid began collecting money for their charitable organization, the Ms. Molly Foundation. This foundation raises money to help pay for safe houses, goods and essential supplies intended to help the victims of domestic violence. The company raises has raised well over $100,000 every year since 2008.
Molly Maid Pros
Molly Maid has over 400 franchises worldwide, and if you're in a populated area, there's a good chance there's a branch near you. This alone makes Molly Maid an easy choice when you're looking for a home cleaning service. Customers have even more good things to say about Molly Maid than just how easy they are to hire though! Molly Maid pros include:
• No contracts. When you hire Molly Maid, you can use them one time or schedule them multiple times each month. With no contracts involved, you won't be forced to pay for a service that you can't use because you're out of town or simply don't need cleaning at the moment.
• Cleaning services. Molly Maid offers a wide range of cleaning services designed to target your living spaces, bathrooms, and kitchen.
• Green cleaning. Molly Maid offers a wide range of green cleaning services for customers who don't want to use chemicals in their home.
• Molly Maid supplies their own cleaning products. This can save you a great deal of money and make the cleaning process easier for you as the homeowner or renter.
• Molly Maid offers a 24-hour guarantee, which ensures that someone will come back to your home if they missed a spot or did not do a satisfactory job when cleaning the first time.
• Employees and cleaners are trained, insured and bonded. This means that any accidents or injuries that occur in your home are dealt with by Molly Maid, not you.
• Molly Maid can help you with specialty services even if they do not offer them. For example, Molly Maid often works with a carpet cleaning company and helps you hire out their services for deep cleanings.
• Ms. Molly Maid foundation support. Many customers love that Molly Maid gives back to the community with their charitable organization.
Molly Maid Cons
Molly Maid receives a lot of positive marks from first-time and regular customers. However, not every review of Molly Maid is a positive one. Molly Maid cons may include:
• Individualized pricing. While some customers like the individualized pricing structure, others would like a basic rate per square foot or for their house. Some customers are irritated that they cannot get an estimate until cleaners come to their home to provide one.
• First-time cleaning fees. Molly Maid says that first-time cleaning services often take longer, which is why they often cost more. However, some customers don't appreciate the high first-time fees.
• Scheduling issues. Molly Maid is a large scale operation and their goal is to provide quality service to each home they visit. However, because of this, many users find that they cannot schedule a time with Molly Maid and they end up waiting around on cleaners to arrive. Some users leave keys for cleaners, however, others are uncomfortable doing so, forcing them to wait on general appointment times.
• Lack of cleaning team consistency. Some users report that they can't get the same cleaners on a consistent basis, which often results in having to explain the home and the cleaning needed multiple times.
Molly Maid Bottom Line
Molly Maid generally receives high praise from customers who appreciate their attention to detail, wide range of basic services and green cleaning options. While the company is not without fault, and scheduling issues are a common complaint, Molly Maid is an excellent option if you're looking to hire a cleaning service for your home.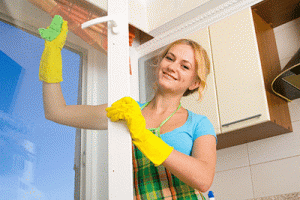 Advertising Disclosure: This post contains affiliate links and at no additional cost to you, Watch the Review will be compensated if you make a purchase after clicking on these links.