MyLife
Modern life can be incredibly stressful. For many people, meditation can provide a brief respite from the day-to-day stresses and pressures placed upon them at work and at home. Figuring out how to meditate though? That's something a lot of people are very confused by.
Apps like MyLife have been designed to help people learn more about meditation and take the first steps toward regular practice. Accessible through a smartphone, tablet or computer, meditation apps can be downloaded in just a matter of minutes. With lots of different options on the market though, it can be hard to figure out which one will be best for you.
MyLife could be an ideal choice if you're just getting into meditation or you've been away from the practice for a long period of time. Keep reading our review to learn more about this potentially beneficial meditation app for your smart device.
The History Of MyLife
Formerly known as Stop, Breathe & Think, MyLife is a meditation and mindfulness app that you can download for iOS or Android devices. Aimed at adults new to meditation, kids and teenagers, this app offers a simple way to get involved in the practice of meditation for a fairly low price.
As of 2020, the app features hundreds of programs for users to try with more being added on a regular basis.
MyLife Pros
MyLife is a popular meditation app that many people download each day. That's why you'll find so many rave reviews of the service. Here are some of the most common pros you'll read about when researching the app:
• The app makes meditation extremely approachable for beginners. While many people who choose to use this app are beginners when it comes to meditation, there are a few advanced programs that can benefit more experienced users as well.
• Learning to use the app is fast and easy. With clear menus and an easy to understand layout, most users who download MyLife are up and running in just a matter of minutes. Prepaid accounts, you'll find a bevy of content at your fingertips right away, allowing you to try out different parts of the app on your first day with ease.
• MyLife has programs for kids, teenagers and families. This is a big draw for many users who want to involve the youngest members of their family in meditation and relaxation exercises. Older kids and teenagers with smartphones or tablets may also use the app alone if approved by parents.
• MyLife is free for teachers who want to use the app in their classroom. While you will need a special educational account, signing up is not particularly difficult. This makes the app extremely popular with elementary, middle school and high school teachers who want to use certain parts of the app for classroom relaxation or to teach lessons about concepts like meditation.
• The app features a program designed to track your moods and emotional well-being over time based on your answers to certain questions. While this tracker is optional, a lot of people who download the app find it extremely useful.
• 10% of the company's earnings go toward teaching mindfulness to children. This is a big benefit if you're looking for an app that can help you relax while also giving back to the community.
• The paid part of the app is reasonably priced considering all of the different programs that you get. While monthly and annual plans do exist, most users spend less than $60 per year on MyLife.
MyLife Cons
The MyLife meditation app might be popular, but not everybody who has tried it fell in love. In fact, some users switch to a different app or decided to try meditation a different way altogether. Here are some of the more common cons you'll read about when doing your homework on this popular app:
• The free version of the app doesn't have enough content to make it worthwhile according to some users. While most users will be prompted to start paying for a subscription to gain more content, some feel that they should get more for free to better sample what the paid part of the app has to offer.
• There isn't enough content for advanced users. While this is a concern for some people, it is mostly those who have considerable experience with meditation. For the most part, MyLife was designed for beginner and intermediate users who want to explore meditation.
MyLife Bottom Line
Learning how to meditate can be extremely daunting for many people. That's where apps like MyLife can be really helpful. Aimed at beginners and with a ton of children's content, MyLife is a great choice for families and users interested in a simple wellness and mindfulness tool.
What MyLife lacks is more advanced content, though they do offer a wide range of more than 400 programs as of 2020. For a low-cost introduction to mindfulness and meditation, however, MyLife is an excellent choice for many people.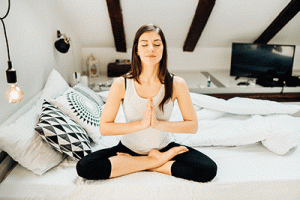 Advertising Disclosure: This post may contain promotional links. Watch the Review may be compensated if you use these links.