North American Moving Services
Going from one home to another shouldn't be so difficult, right? After all, you're just moving furniture, clothes, and basic items like your computer and pet supplies. So why does moving always seem so painful?
The fact is that moving is difficult whether you've got a one-bedroom apartment in the city or you're trying to move a sprawling suburban space in a weekend. That's true whether you're going to a few city blocks or your new home is thousands of miles from your old one.
Moving companies like North American Moving Services aim to make the process of moving a whole lot easier for you and your family. They can even help with complicated business moves that include large items like file cabinets and office fixtures.
Is North American Moving Services the right option for your local or long-distance move? Read our review to learn more about North American Moving Services now.
The History Of North American Moving Services
Founded in 1933 in Cleveland, Ohio, and later moved to Fort Wayne, Indiana, North American Moving Services began as a specialty trucking company mostly used by business owners. By the late 1950s, the company expanded considerably and began to move more residential homes along with their core commercial clientele.
Today, the company is partnered with Allied Van Lines, creating a larger business that's worth over $200-million.
North American Moving Services Pros
North American Moving Services is a popular option for short and long-distance moves. Here are some of the pros you'll read when researching the company on the internet:
• Online GPS tracking helps promote overall peace of mind during your move even if you can't be with your belongings the whole way. With online GPS tracking from North American Moving Services, you can check the progress of your belongings without having to contact a person and wait for a phone call. Online GPS tracking is also vital if you're already at your new location and you need to be in your home for a delivery.
• They offer a wide range of packing products. While most moving companies have some packing products available, North American Moving Services offers a wide range, ideal for everything from clothing to electronics. North American Moving Services will also help you pack up your belongings so you don't have to do that on your own. They'll even do a full-service pack so you can relax, go to work or spend time with your family instead.
• North American Moving Services offers specialty services like trash remove and appliance connection at your new space. They'll also help you clean and disconnect items like stoves and refrigerators before your move, making the whole process much easier for you.
• They will transport your vehicle so you don't have to drive your car for a long-distance move. North American Moving Services uses a similar transportation method to car dealers, ensuring that your car will arrive just as you left it.
North American Moving Services Cons
North American Moving Services is a popular option for many residential and commercial customers, but not everybody who has used them or contacted them for a quote would recommend their services. Here are some of the cons you'll come across when researching this moving company:
• Representatives aren't particularly helpful, at least in certain locations around the country. This obviously depends on who you talk to, but regular complaints about initial customer service contact are relatively common.
• Day-of customer service may be lacking in some areas. Some users have reported issues with packing agents or movers who come to their home. These issues are more related to late arrival times or a lack of updates during a move than rude employees or damaged items.
North American Moving Services Bottom Line
North American Moving Services is an extremely popular moving service that can help you with short, in-town moves or long-distance moves that can be very hard to coordinate on your own. With a range of packing supplies and moving options – including storage at your final destination — North American Moving Services has a lot of flexible options to make your move much easier.
While reports of poor customer service are relatively easy to find, the fact is that some branches fare better than others. In general, you shouldn't be put off by these reports. The moving business is a service industry after all, and in some cases, poor reviews are bound to happen due to the stress of moving and the nature of the process.
For a quality, affordable moving experience, North American Moving Services definitely deserves consideration from commercial and residential customers.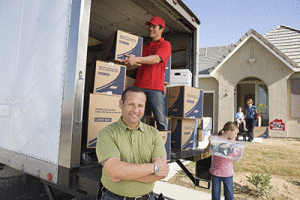 Advertising Disclosure: This post may contain promotional links. Watch the Review may be compensated if you use these links.