OneTravel Review
You're getting ready to book a trip for work and you need to be in a certain city at a certain time. Perhaps you're booking a trip for your family and the dates are more flexible. Whatever the case may be, there's a good chance you're going to turn to the internet when you're trying to figure out how to fly, where to stay and find services like car rentals.
The fact is that online travel services like OneTravel are by far the most popular way for consumers to check rates and make travel arrangements today. You can certainly still call the airline and hotel directly – and in some cases, it might still be a good idea – but few people really do this routinely. Instead, they rely on travel service aggregators that often have the best prices and can even help you find packaged deals that cover all of your travel needs.
The big companies like Priceline.com and Expedia are major players, but there are other options out there. OneTravel, which may not be as familiar to you, is one of those choices. Use this guide to learn more about OneTravel and whether or not they should be in your bookmarks toolbar in the travel section. You might just find that they're a great alternative to the bigger, more bloated sites.
Start Planning Your Get Away Now With $30 Off
OneTravel Company Background
Launched from a barn in Pennsylvania, OneTravel started as a small enterprise with the goal of giving people more travel options when booking flights, car rentals, hotels, and entire trip packages. Today, the company has grown substantially, offering deals on travel in the United States and throughout the world.
Known online for their relatively simple, easy to use interface, OneTravel is often referred to as a rising star in the online travel game.
OneTravel Pros
OneTravel is a service that many consumers truly enjoy when booking travel. While they may not have the big name or the TV commercials that larger aggregators do, they offer some of the same pricing and things that make the company a go-to for a lot of travel shoppers.
OneTravel Pros include:
• An easy to use interface and site design. Navigating OneTravel is a simple process and finding a flight that works for you is fast and easy. You can also search in multiple manners so you can find a flight and hotel together, or just a flight and car rental. The site was designed to be tailored to your trip, so making arrangements isn't complicated.
• "Cheap tickets by destination" search makes it easy to find low fares and lodging when you're going on vacation without a strict end goal or timeline. The cheap tickets features on OneTravel are also helpful for many users who are open to a variety of travel destinations but need to work within a specific, often limited budget.
• OneTravel offers useful travel tools like a baggage fee directory, travel glossary, special coupons and more. Many users find this to be more helpful than what other larger sites like Expedia have to offer.
• OneTravel offers promo codes from time to time that can help you save more. These promo codes are often e-mailed to regular users, but they're available on the site for browsers and first-time shoppers as well.
OneTravel Cons
OneTravel is an aggregator that many travelers love, but some travel shoppers have complaints that drive them to use OneTravel less or visit other sites altogether. Here are a few of the most common OneTravel cons you'll find on the internet:
• There's no way to check other travel sites within the interface to make sure you're getting the best possible price. Some travel service aggregators allow you to do this, providing peace of mind that you're always getting a competitive deal.
• There's too much emphasis on travel packages and vacations. This makes booking difficult for some shoppers that prefer a more no-frills or a la carte experience.
• OneTravel offers too many promotional items. Some users prefer sites that don't offer credit cards and other perks, instead focusing only on lower prices.
OneTravel Bottom Line
OneTravel doesn't have the clout of a larger online travel aggregator like Expedia or Priceline.com, but that doesn't mean they aren't worth a look when you're booking a trip. In fact, you might find that their less bloated site is easier to use and fits your needs better.
With all travel sites, your best bet for getting the right price is to check multiple options before you book. You should also consider contacting small boutique hotels and airlines directly to simply compare prices. Aggregators are often the lowest, but a quick phone call could save you some cash in rare cases.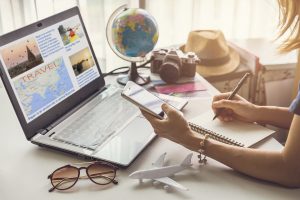 Advertising Disclosure: This post contains affiliate links and at no additional cost to you, Watch the Review will be compensated if you make a purchase after clicking on these links.