Postmates
In the old days, getting food delivered to your home meant picking up the phone and calling your local pizza place or Chinese food restaurant. While this might have been an easy thing to do, it didn't leave you with many options when you didn't want to cook. Food delivery services have changed all of that.
Today, you can go through a third-party delivery site with a bevy of drivers circling your area practically around the clock. Making it easy to place your order through an app or website, you now have tons of different choices for food since the restaurant isn't actually in charge of delivery.
Postmates is a particularly popular restaurant and fast food delivery service that's growing rapidly. Should you download their app and add it to your phone or tablet? Keep reading to learn more about Postmates and why you should consider making them a go-to food delivery service for your home or business.
The History Of Postmates
Founded in 2011 in San Francisco, California, Postmates began as a logistics service aimed at helping small business owners competitively deliver their products. The focus of Postmates, at least at first, was to mostly help companies work more efficiently when it came to delivering goods through an up and coming online services like Amazon.
However, their initial focus shifted around 2014 and into 2015 when they began working with restaurants and making much smaller deliveries than before. In 2018, a big year for Postmates, the brand expanded into more than 125 new cities, putting them in 550 total around the country. As of 2019, the company is worth approximately $1.85-billion.
Postmates Pros
Postmates gets a lot of positive reviews from happy users in both personal and business sectors. Here are a few of the most common pros you'll read when checking reviews of Postmates online:
• The company has a wide network of restaurants that they work with. Many users love this about Postmates as it gives them choice and flexibility when ordering meals.
• Postmates has an easy to use interface that's relatively simple and quick to navigate even when you use it for the first time. This makes Postmates a go-to for many business owners and individuals who need to order meals quickly due to busy schedules or family life.
• Food pricing is fair. Consumers report that they spend about what they normally would on a meal out when ordering from Postmates. Just because you're ordering your food through a third-party app doesn't mean you have to pay more for your food than the restaurant charges.
• Customer service is exceptional. Users report that problems they tell the company about tend to get solved quickly. Postmates also has a good reputation for letting customers know quickly if there was a problem with their order so it can be addressed in a prompt fashion.
Postmates Cons
Postmates gets a lot of positive press and publicity from consumers who rave about the brand and claim that they're the best food delivery service on the planet. Not every single customer that has used Postmates has had a 100% positive experience though. Here are some of the negative comments you may come across when researching Postmates online:
• The delivery service charges and associated fees are too high. Some users report that they're paying nearly 50% more for their food once the charges are factored into their order. However, Postmates prices are in line with most other food delivery services available today. After all, the company does need to pay drivers who are picking up and delivering your food.
• Delivery time is slow. While some users report that their deliveries come very quickly when they order, others say that they waited too long on their food to arrive at their doorstep. This may be location based or it may have to do with certain drivers, traffic in problem areas or the restaurant not preparing the food in a timely manner for pickup.
• The food is cold when it arrives. Due to the nature of food delivery, some users have reported that their food was cold when it arrived at their home or place of business. However, this can hardly be the fault of the Postmates company since they do not prepare the food. It's also in a driver's best interest to deliver food as quickly as possible, so more blame may need to be assigned to the restaurant, delivery distance or heavy traffic.
Postmates Bottom Line
Postmates gets great scores from most customers who use their service on a regular basis. Having a wide range of restaurants also makes them one of the top restaurant delivery services you're going to find. Of course, in 2019, it's a crowded market and there are a lot of options to try.
Add Postmates to your list of food delivery services to use, but consider scouting others as well. Most companies offer a first-time discount or waive the delivery fee entirely, so it's worth trying a few to see which one you like best. Your delivery location will also play a role, so looking at a few options is generally well worth your time if you use restaurant delivery services often.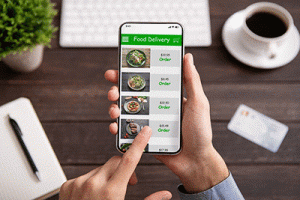 Advertising Disclosure: This post contains affiliate links and at no additional cost to you, Watch the Review will be compensated if you make a purchase after clicking on these links.