Sattva
The concept of meditation can be confusing for a lot of people. By now, you've probably heard that meditation can help you clear your mind and find balance in your daily life. That doesn't mean you know how to get started. Even people who want to begin meditating, as well as those with some experience, may find getting into the practice intimidating.
Apps like Sattva aim to make meditation accessible to people around the world. This includes beginners and people who have been away from the practice of meditation for many years. Designed for smart devices like phones, tablets, and laptops, Sattva is a leading meditation app that tons of people are using each day.
Is Sattva right for you? Use this guide to learn more about Sattva and find out if this is one app you need to download today.
The History Of Sattva
Built to help everyone, from people trying meditation for the first time to experienced veterans, Sattva is an app developed using real ancient meditation principles. While the app was initially launched for the Apple stratosphere, you can now download Sattva for your Android device as well.
As of 2020, Sattva has also started to include videos through the app to help new users learn more about meditation.
Sattva Pros
Sattva is a very popular meditation app that many people swear by. Here are some of the common pros you'll read about when doing your research on Sattva on the Internet:
• Sattva is easy to understand when it comes to basic meditation principles. Drawing from Vedic principles of meditation, Sattva provides meditations, chants, and mantras that you can start using today.
• You can take it slow when using Sattva. Many people new to meditation apps are a little intimidated by the fact that they have to do more complex and longer meditations right out of the gate. Sattva allows you to work your way up from meditations of about five or six minutes. You can also keep an online log to help you track your progress.
• Sattva allows you to track different playlists so you can repeat meditations to see what's working best for you. From there, you can create your own playlist of unique meditations at a range of different levels. This can be a very helpful tool for people who prefer a more repetitive style of meditation to reduce stress.
• Sattva works with Sanskrit scholars to develop authentic meditation routines and mantras that more experienced users can benefit from. However, you don't have to be an experienced user to enjoy these authentic meditations. Individuals looking for a more serious meditation app will enjoy the fact that true scholars have developed the content along with the Sattva team.
• The app is free to download. This is a big selling point for many people who want to simply try a different form of meditation or a different app than the one they're already using. Beginners interested in meditation can also give it a try without spending any money upfront.
Sattva Cons
While Sattva may be very popular with new and regular meditation devotees, not everybody who gives the app a try would recommend it to a friend or family member. Here are some of the most common cons you will read about when researching Sattva:
• The user interface can be a little confusing for some people. Some new users find that while a lot of quality content is offered, the interface keeps them from really enjoying and digging deeper into it.
• Some users feel like they are being pressured to buy and pay for in-app services. In many cases, users who pay for the service simply do so to get more content. Still, some users find that a little too much pressure is applied even after they decline certain paid add-ons.
• A few users have reported a variety of bugs when using the app. While Sattva does make regular updates to repair bugs for a smooth user experience, some users, particularly those with older devices, have had trouble.
Sattva Bottom Line
Sattva is an extremely popular meditation app designed for new, intermediate, and more advanced meditation users. Designed in part by Sanskrit scholars, Sattva is unique in its authenticity compared to some of the more popular apps.
However, that doesn't mean Sattva is without problems. While the app is free, some users feel they need to pay for more advanced programs. Others find the interface a little difficult to deal with.
Considering that the app is free, it is worth a try for anybody interested in authentic meditation, chants, and mantras. It may or may not be the perfect app for you, but depending on your needs, you could find the ideal meditation solution without paying a penny in Sattva.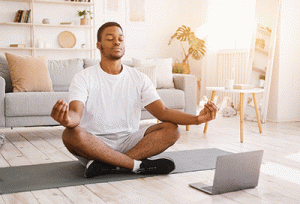 Advertising Disclosure: This post may contain promotional links. Watch the Review may be compensated if you use these links.