Site123
Website design services are becoming so popular in recent years that it seems like everybody under the sun must have their own website. With these services only getting more popular, the chance of that actually happening seems very real! No matter what you need a site for, whether it's business or personal use, there is a website building service out there that will fit your needs.
One of the most popular in today's market is Site123. While they may not be quite as large as some of their competitors who have bigger marketing budgets, many consumers absolutely love the service they provide. Is Site123 an ideal option for your small business or personal website? Use this guide to learn more about Site123 today.
The History Of Site123
A private company started to help website building be easier for the average user, Site123 has become a very popular option for individuals and small business owners all over the world. Following the model that other website design services like Squarespace brought to the table, Site123 aims to make building your own site a real piece of cake.
According to many users, that really is what they do. That's why the company continues to grow and offer excellent website services that are affordably priced for almost anyone.
Site123 Pros
Site123 gets a lot of praise from active users that have used the unique platform to build their website. Among the most common pros about the site you'll find:
• Site123 offers both free and premium payment plans that make it easy to get the desired site on any budget. While most sites do offer different payment plans, Site123 is often regarded as one of the more affordable options for first-time users. Many small business owners also take advantage of Site123 for this reason.
• You can get a discount if you sign up for a long-term payment plan. Business and personal users who know they'll be keeping their site for at least a year can save by paying upfront or signing a longer agreement. That's beneficial for businesses and individuals who want to save a little bit of money each month.
• The site is very easy to use. One of the most common reasons people sign up for Site123 is the fact that the company offers a wide range of templates that are easy to build upon as you go. This is a major benefit for first-time users and individuals who don't have a lot of technical skills when it comes to website creation.
• Sites you build with Site123 come with a moderate amount of storage space for free, which is something many users appreciate. Premium service also allows you to have your domain name as part of your regular package.
Site123 Cons
Site123 is incredibly popular with users and the service is growing quickly. However, not everything that you'll read about the brand on the internet is positive. Here are some of the most common cons you can read about if you're searching the web for information on Site123:
• Site123 doesn't have enough different plans for serious business users. While this is a complaint you'll see, Site123 is mostly designed for small businesses with limited commerce needs. If you need major e-commerce capabilities, looking elsewhere may be ideal for you.
• Other sites may have better templates. A common complaint that you'll find on the internet is that the templates on other site building websites may be preferable to those of Site123. However, it's important to note that Site123 has a wide range of template options that should make it easy for most users to find one they can build on.
• The editor is not powerful enough. While you can change fonts and tackle basic issues with Site123, the editor was not designed to give you total control. In fact, the whole idea of the template system that most web design sites use is to make it easy for you to get a site up without knowing the technical ins and out of the process.
Site123 Bottom Line
Site123 can be an ideal option for you if you're looking for a free or low-cost solution for your personal or small business needs. For many people, the fact that they will host a free site for you is a major selling point.
While some customers have complaints about the templates and lack of options, this can actually be a good thing if you're looking for a simple design that works right out of the box. That way you can create your site and maintain it without learning more about web design that you need to know for your real work.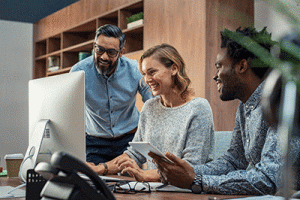 Advertising Disclosure: This post contains affiliate links and at no additional cost to you, Watch the Review will be compensated if you make a purchase after clicking on these links.