Skype
Video conferencing used to rely on technology that was difficult and costly to obtain. Even if you did manage to get video conferencing software you could afford, keeping it stable for more than a few minutes at a time was likely exceedingly difficult. Advances in technology in general and the introduction of global broadband internet have made video conferencing something most of us can do from our desktop computers or smartphones.
That doesn't mean that video conferencing is always simple though. Today, consumers have more choices than ever when choosing video conferencing software for communicating with friends and family members. Businesses with more demanding needs can find choosing video conferencing software even more confusing.
For most, Skype is likely a familiar name, and when it comes to video conferencing, they're a powerhouse in the industry. Use this guide to learn more about Skype and see if they offer all of the features you need for successful video conferencing.
The History Of Skype
Skype is a well-known entity when it comes to video conferencing, making its name on cost-effective international calling for many years. The company was founded in 2003, though it was first established as a backend for music sharing service Kazaa.
The company has grown quickly since 2003, giving people across the globe a simple way to communicate without relying on costly telephone calls. As of 2020, more than 100 million people use Skype on a monthly basis, with about 40 million using the service each day.
Skype Pros
Video conferencing is popular in many homes and businesses. Many people that take part in video calls do so using Skype, which means there are lots of positive reviews of the software. Here are some of the common pros you'll read about when researching Skype:
• Downloading Skype and getting started is simple and easy. Many users find that they can be up and running in just a few minutes, placing or receiving their first call almost immediately.
• Learning about the different features Skype offers is easy. Designed to be simple and clear, this is one of the major benefits of using Skype.
• Skype offers fun add-ons like emoji that other video conferencing software either doesn't have or doesn't do as well. This is one thing that makes Skype an excellent, family-friendly choice for video calling.
• The free version of Skype covers many people's needs. Skype also offers an affordable paid version if you need to make international video calls. These services are generally much cheaper than if you were to pay for a long-distance phone call.
• You can easily set notifications to roll to your e-mail if you get a Skype call while you're away. This helps many people find out they've missed a Skype call within a matter of minutes even if they don't use the service on their mobile phone.
Skype Cons
Skype may be a popular option in today's marketplace when it comes to video conferencing, but some users have had a bad experience with the software, while others simply believe it can be improved. Here are some of the cons you'll come across when doing your homework on Skype:
• Some tasks are a little hard to do via Skype, while others are prone to bugs. Features like sharing written text have perplexed business owners and independent contractors as well.
• Sharing large files can be slow and somewhat difficult to do. Some users have reported that large files simply can't be transmitted before they time out in some cases. This is a major con for small businesses that would prefer to use part of the video conferencing software for real-time file sharing.
• There's no easy translation feature built-in when you download the Skype software. While Skype prides itself on international calling, this feature leaves some feeling like the software is lacking. This may impact the international business more than personal users.
• Customer service and tech support can be somewhat difficult to reach. This likely has more to do with the size of Skype and how many users need support instead of a lack of experience or understanding on the Skype team's part.
Skype Bottom Line
If you're looking for a reliable, easy to use and understand video conferencing system Skype could be an excellent pick for you. With Skype, you'll be up and running in minutes even if you're not a computer whiz. This makes it an especially good pick for individuals and families.
Where Skype is lacking is in extra features for collaboration. This is particularly obvious if you're trying to do things like share documents or put together a presentation that relies on text for your business.
Simplicity is the keyword with Skype. If that's what you're looking for Skype can become a one-stop solution for talking to friends, family members, and even co-workers and colleagues.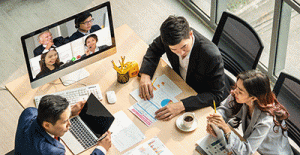 Advertising Disclosure: This post may contain promotional links. Watch the Review may be compensated if you use these links.