Stackby.com
Managing a business can be tricky, to say the least. In today's world, telecommuting and independent contractors have made project management even more difficult. The good news is that project management software solutions are being developed rapidly to help businesses of every size cope with this new way of working.
You don't need to have a business that uses lots of independent contractors or remote employees to take advantage of project management software though. Options like Stackby are designed to work for multiple companies whether everybody works in an office or not. In the simplest terms, these project management software solutions aim to help keep you on track whether you're developing a web-based product for sale or working on another type of strategy to grow your company.
Is Stackby a good solution for you? Read this review to learn more about the history, pros and cons of Stackby.
The History Of Stackby.com
Headquartered in Mumbai, India, Stackby was founded in 2018 Rachit Khator. With a focus on cloud-based spreadsheets, databases, and API integration, Stackby.com has grown to a company with a small staff, but a big presence when it comes to project management software.
Stackby.com is also receiving notoriety in media fields like film and video production since the software can be used for budgeting, production tasks, and marketing content creation.
Stackby.com Pros
Stackby.com is a popular option when it comes to database creation, helping many small companies switch for hard-to-use, oversized spreadsheets to a more manageable solution. Here are some of the pros you'll read about when researching Stackby.com:
• Stackby.com offers a free trial so you can try it out before you spend money on this piece of project management software. Some small business owners or individuals who need Stackby.com upgrade over time, paying more as they go. With Stackby.com, you can upgrade to a higher tier plan at any point.
• The price for paid plans is reasonable for what you get. Unlike some project management software solutions, you have the option of only paying a one-time fee with Stackby or going with a monthly plan. If you add users down the road you'll need to expand your plan.
• You get unlimited guests when using Stackby.com. This makes collaboration much easier, especially if you work with remote employees or independent contractors who don't need full-time access. Using guests may also save you money instead of adding extra users.
• Stackby.com is very flexible and easy to customize.  Many users find that while there are lots of deep features, understanding the basics can be done in a fairly short period of time. This is ideal if you're adding Stackby to your workflow during a project because you need its functionality.
• There are a variety of different video and article tutorials available on the Stackby.com website to help you understand how to better use the product. Robust community support and help from Stackby representatives is also available.
• Stackby's main USP is that it's an API-first tool.  They provide the ability to connect columns to popular third-party services and APIs pull information directly from different tools and refresh cells to bring data in real-time.  Lots of different API integrations are possible. While Slack.com is most people's key focus, you can integrate Stackby.com with YouTube, Hunter, PageSpeed, and more. This makes it very flexible and helps fill gaps that may be lacking in Stackby.com. You'll also get to keep using your favorite, go-to apps like Slack.com, which make the transition to using Stackby.com faster.
• They have over 30 native integrations & growing added with Google Analytics, Google Search Console, PageSpeed, YouTube, Ahrefs, Facebook Ads and more. So not only you can plan and manage your projects but also bring data for automated reporting right inside your tables.
Stackby.com Cons
A lot of regular users love Stackby.com, but not everybody who has tried it found it to be an ideal solution for their need. Here are some of the more common cons you'll ready about when doing your homework on Stackby:
• Some customers have reported that the amount of free workspaces is too limiting. However, you may pay for additional workspaces if needed.
• Customers have reported that the UI can be a little flat and would prefer a simpler, easier solution from the start.  However, Stackby.com is constantly listening to its customers' needs and improving their UI on a frequent basis.
Stackby.com Bottom Line
The need for project management software depends greatly on your company in particular. When you outgrow spreadsheets, Stackby.com is a great option to help you create a database that will be fully-functional and easier to navigate and use on a daily basis.
With easy integration to platforms like Slack and YouTube, it's an excellent choice for small businesses creating a physical product or consumable content. Many users like the fact that Stackby.com isn't packed with tools and options you didn't ask for, which could make it more confusing and less useful in the long run.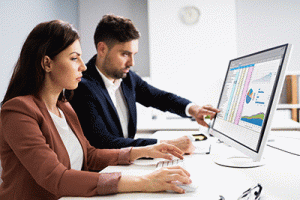 Advertising Disclosure: This post may contain promotional links. Watch the Review may be compensated if you use these links.