TaskRabbit
Fixing things around the house can be a full-time job. That's especially true if you live in an older home that often needs repairs when it comes to things like minor leaks or loose floorboards. Outdoor spaces like walkways, patios, and decks may also require some regular maintenance to perform properly for you and your family.
Tasks like putting together furniture that arrives unassembled can also be difficult for the average person. Maybe you don't have the tools, or perhaps you just don't have the time to take on all of these tasks. A handyman could be the answer you've been searching for.
Unfortunately, finding a handyman isn't always easy. That's why apps like TaskRabbit have popped up in great numbers in the last few years. Making it easier for regular consumers to connect with professional service providers and general helpers like handymen with several skills, these apps have become a go-to for many people.
Is TaskRabbit a good choice if you're looking for a handyman app to add to your phone or tablet? Keep reading to learn more about TaskRabbit and whether or not they're one of the better handyman apps available today.
The History of TaskRabbit
Launched in 2008, TaskRabbit grew quickly by literally running errands for customers that didn't have time. Soon, they began filling a gap for homeowners and consumers who needed help around the house. Not knowing where to turn, the promise of vetted pros that are easy to hire and book allowed the company to grow quickly.
Today, TaskRabbit has expanded to about 50 cities and several countries outside of the United States. Millions upon millions of jobs have been completed by "taskers," the name given to the independent contractors who work with the company.
TaskRabbit Pros
TaskRabbit is a popular service that a lot of people use regularly for everything from basic plumbing repairs to home maintenance and furniture construction. Here are some of the pros you'll read when doing online research on TaskRabbit and their handyman services:
• TaskRabbit makes it very easy to find somebody in your area that can do the work required. For many people, finding a qualified professional is the most difficult part of getting any work done in or around their home.
• The company does do background checks on individuals working for TaskRabbit, which makes many customers feel at ease. After all, you don't want somebody in your home that may pose a threat to you. TaskRabbit's vetting process is generally sound, leading to honest, hard-working people booking appointments.
• TaskRabbit has providers that can do many different things. While a general handyman may be all you need a lot of the time, it's important to know that TaskRabbit also connects you with professionals who specialize in certain fields. TaskRabbit may also list a handyman's strengths so you can choose somebody based on your specific needs at the time.
• Paying for TaskRabbit services is safe and easy. With TaskRabbit, you pay through their system, not directly to an individual. That gives you safety and security and also ensures that you only pay when the job is complete and finished. You never pay before an appointment, so you don't have to worry about a particular provider not showing up and still getting charged.
TaskRabbit Cons
A lot of people love TaskRabbit, but not all the reviews you'll find online are glowing. Here are some of the more common cons that you'll read about when doing your research:
• There have been reports of handymen working for TaskRabbit not showing up for appointments that are scheduled. Other people who have used TaskRabbit claim that the people they hired were somewhat or very late for their appointment. However, it's important to note that this could easily happen with any outside contractor that you call.
• Reports of workers doing a poor job via TaskRabbit are not particularly difficult to find. Again, it's important to remember that all of the people working for TaskRabbit are individual providers. Taking your time to read reviews and vet them based on the quality of their past work is just as important when using one of the services as it would be if you were hiring an independent contractor.
TaskRabbit Bottom Line
TaskRabbit is one of the more popular handyman apps that you'll find today, allowing homeowners and regular customers to find professionals who can handle basic and more complicated tasks quickly and easily. The fact that they're thoroughly vetted makes TaskRabbit a particular smart pick for customers concerned about the potential safety issues of hiring strangers.
There are many different handyman apps out there today though, and in most cases, downloading a few to compare prices is a smart choice. you may also find that you have more providers in your area via TaskRabbit or a different app. More choice is generally a good thing when using handyman apps.
Still, TaskRabbit is an ideal place to start because they have many contractors in their network and millions of completed jobs.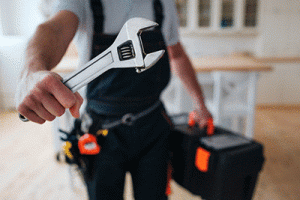 Advertising Disclosure: This post may contain promotional links. Watch the Review may be compensated if you use these links.