TaxSlayer
The thought of sitting at your desk, dining room table or the kitchen counter and working on a big stack of tax forms is enough to make some people get weak in the knees. The fact is that doing your taxes on paper can be a daunting challenge that makes you feel like you're guaranteed to mess something up.
The good news is that you don't have to work on a stack of forms anymore and you don't need to keep that IRS guide book handy around the clock while you're figuring out your deductions and expenses. With tax preparation software now ubiquitous, it's easy to get your taxes done even if you know very little about tax law and tax codes.
One problem a lot of people run into though is trying to figure out which tax preparation software is right for their needs. While there are a ton of options on the market, TaxSlayer is one of the growing companies that individuals and small business owners are turning to more and more to get their federal returns filed.
The History Of TaxSlayer
Founded in 1965 under a different name, TaxSlayer dates way back to the days when you had to go to a professional tax service, CPA or do everything on your own via paper forms. In 1989, the company began to develop software that would allow people to simplify the way they do their taxes, making them a relatively early adopter of the online model.
The company launched its tax service software in 1991, and as of this year, they continue to grow, drawing more people into the fold each time tax season comes around. The company also continues to build its profile by working with professional sports organizations and getting involved in community activism in a wide range of neighborhoods.
Get Your Taxes Done Easily and Accurately
TaxSlayer Pros
TaxSlayer is a growing tax preparation software service that more and more people are using each year. Talk to anybody who loves TaxSlayer and it won't be hard to come up with a few pros to add to your list of reasons to try them out. Here are a few of the most common reasons users love TaxSlayer:
• Overall pricing is better than many other online tax preparation services. With TaxSlayer, customers often talk about how affordable the plans are compared to other services. While TaxSlayer is pretty much on par with the others, you may save a few dollars on more complex services. Remember that state filing does incur an additional charge on most sites.
• There is a wide range of pricing plans that make it easy to pick the filing type that's right for you. For example, a free service is offered, but you can also buy tiered plans designed for freelancers, small businesses and users who have even more complex tax structures. This also allows regular users to choose their return type each year even as their tax situation changes.
• The TaxSlayer system has excellent refund tracking, allowing you to see what you'll get back as you enter your information into the system. This can make filing easier and more rewarding for a lot of users who expect a refund from the IRS.
TaxSlayer Cons
TaxSlayer is growing in popularity, and among users who plan to e-file, they're getting more and more business each fiscal year. Not every review of TaxSlayer casts a positive light over the brand though. Here are a few of the cons you're most likely to find when doing research on the company and their tax preparation software:
• Customer service is lacking. While some users report excellent customer service when using TaxSlayer, others report that they did not have their issues handled as quickly or effectively as they would have liked. However, this is a fairly common issue with all major tax preparation software services since they are large companies dealing with individual tax-related problems in many cases. The majority of users have an easy time filing using the system without needing any help from TaxSlayer at all.
• There isn't a lot of on-screen help. With TaxSlayer, you may not be guided quite as much as with some other services. For some users, this is not a problem at all. In fact, many find the interface to be simpler and faster than other tax preparation software.
TaxSlayer Bottom Line
TaxSlayer is very popular tax preparation software, and for people who have simple returns or more experienced tax preparers, it can be a great financial choice. If you need more customer service or help, you may be better off with another service since TaxSlayer tends to be a bit more bare bones.
Is TaxSlayer right for you? While it does score highly, you should still check out a few other top tax preparation software services. A little research goes a long way when it comes to filing your taxes in a timely manner.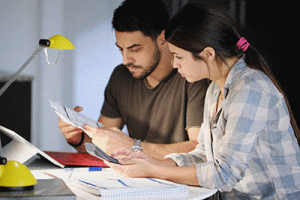 Advertising Disclosure: This post contains affiliate links and at no additional cost to you, Watch the Review will be compensated if you make a purchase after clicking on these links.