Teamwork
Long-term projects that multiple people are working on at once can be hard to manage. That's especially true if your team works all over the globe instead of one central office. In today's economy, that is happening more and more each day.
Project management software solutions aim to make communication between employees, no matter where they are, considerably easier. Through task lists, calendars, creation boards and messaging, these software solutions can help you meet the demands of any project whether you're developing software or planning a large-scale event with multiple marketing efforts all over the world.
Teamwork is one of those project management solutions that you'll hear about often once you start doing your research. Used by an assortment of very large companies, Teamwork is considered to be the cream of the crop by some. Is Teamwork right for you and your business?
Keep reading to learn more about Teamwork and whether or not it's the ideal solution for your small, medium or enterprise-sized company.
The History Of Teamwork
Founded in January 2007, Teamwork is one of the older project management software solutions on the market today, at least in terms of the company's age. Started by Peter Coppinger and Daniel Mackey in Ireland, the company now has over 190 team members as of 2018.
One fact of note is that the Teamwork company paid $675,000 for their Teamwork.com domain name, making it one of the largest such sales in history.
Teamwork Pros
Teamwork is a very popular project management software solution. Here are some of the more common pros you'll read about:
• Teamwork offers a free 30-day trial, which is longer than what some of the other project management software solutions are currently offering. This allows users to try the platform on their own and with their team members to see if it works for them. This is particularly important if you're considering one of the more costly paid account types.
• There is a free Teamwork option that you can use. For many small businesses or individuals who just need to collaborate with others, paying for project management software isn't necessary. Teamwork does offer a free option that you can take advantage of on an ongoing basis. You can always upgrade or downgrade in the future as well.
• Teamwork Projects include billing software and unique ways to keep track of invoices.
• You can track time spent on a particular task or project. This can help with time management and billing, as well as how you can better assign tasks and projects in the future for maximum efficiency.
• Reports about customer service performance are very positive. Most customers who have had to contact the customer service team say that their experience was fast and easy, while questions were answered in a timely manner.
Teamwork Cons
It's easy to find positive reviews on Teamwork, but not all users have been thrilled with their initial experience. Here are some of the more common cons you'll see when doing your research:
• Setting Teamwork up for the first time can take quite a bit of effort. While this does mean that Teamwork is somewhat flexible, many users find that the initial setup simply takes too long. This has kept some users from adopting Teamwork as part of their integrated setup entirely.
• There aren't enough initial educational offerings to help users get used to Teamwork. Some users have said they would like more tutorials or e-mails that include tips and tricks for using Teamwork effectively. Some basic users also find that they never understand some of the deeper features because they aren't part of their daily workflow.
• Heading types are a little confusing for some users. For example, some users complain that defining "tasks," "projects," "notebooks," and "milestones" is somewhat confusing. Others have complained that this internal naming scheme makes it easy to lose track of projects and goals, particularly when it comes to short-term, always-changing projects or specific tasks.
Teamwork Bottom Line
Teamwork is extremely popular among small businesses, mid-sized companies, and enterprise-scale entities. Offering unique features like in-platform time management and billing, Teamwork can help companies get projects done and stay on track even when a product or web rollout is planned years in advance.
However, Teamwork is not the only option currently on the market. Competition is stiff, and with the current price points available via Teamwork, you can try almost any project management software solution on the market. For free users, Teamwork may be particularly attractive though.
When shopping for project management software it is in your best interest to do your homework and evaluate at least two or three different options. They're all a little different and you may find that one platform works better for your business, project goals or budget.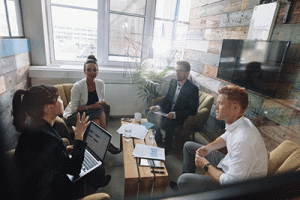 Advertising Disclosure: This post may contain promotional links. Watch the Review may be compensated if you use these links.
---
Teamwork Review FAQs
What is a Creation Board?
The Project Board provides management and guidance for your project. It acts as a road map. You can create a Project Board digitally using software or physically using corkboards, whiteboards, chalkboards, or large card stock.
---