Thumbtack
Handling home repairs can be a major inconvenience for the average person. Maybe you don't have the tools you need to put together a piece of furniture. Perhaps you've got a leaking pipe that just won't stop no matter how much you tighten that nut.
Handyman apps like Thumbtack are designed to make it easier for you to find a qualified person or contractor to come to your home and make the essential repairs. They'll also handle tasks like assembling and moving furniture, mounting TVs to the wall, and hanging artwork. Even choosing the right handyman app can be a little difficult with so many different options available in the marketplace though.
Thumbtack is a popular service that's growing by the day. With more and more contractors being added to their list of approved vendors each month, it has never been easier to find somebody to handle the jobs you don't have the time or expertise to take care of on your own.
Is Thumbtack the best solution for you though? Keep reading to learn more about Thumbtack and how it comes to other handyman apps you may be considering.
The History Of Thumbtack
Founded in 2010 and sponsored mostly by angel investors initially, Thumbtack is a growing handyman service that also connects consumers with specialized professionals. While they have plenty of competition today, one thing that sets them apart is their range of services, with over 1,100 options currently offered.
In 2014 and 2015, Thumbtack raised a total of $225-million from Google Capital and an assortment of other private equity investors, putting them on the fast track to expansion in the coming years.
Thumbtack Pros
Thumbtack is a popular handyman app that many homeowners and commercial customers use regularly. Here are some of the pros you'll read about when researching Thumbtack online:
• Prices are affordable for the services provided. According to many customer reviews, the prices quoted are fair. When contractors that can do the work are hired, most customers are extremely satisfied with the service provided to them.
• There are lots of different providers available in areas where Thumbtack offers handyman services. Being able to contact and talk with multiple providers makes it easier to find somebody you're comfortable working with. This may also help you get faster service if you have an emergency issue like a leak that must be handled as fast as possible.
• You can quickly and easily find professionals who can handle specialty tasks. While a general handyman may be helpful for some jobs, others will require years of experience. Thumbtack also makes it possible to find these people so you don't have to waste time with contractors that can't handle the task at hand.
• You can get quotes from multiple providers before you hire anybody for the job. This makes shopping around for the best price a whole lot easier as long as you are specific and detailed with your description of the work that needs to be done.
Thumbtack Cons
Thumbtack may be a popular handyman app today, but not everybody has used it leaves a positive review. Here are some of the cons you'll read about when researching Thumbtack online:
• Some customers are concerned that the vetting process is not good enough. While Thumbtack does perform background checks, customers have cited a few incidents that have given them pause in the past. However, these reports are relatively rare.
• Customer service can be slow. Some past customers who have reported issues with a service provider said that they did not receive prompt replies from Thumbtack staff. Others have said they were told that they would be helped only to receive no support at a later date.
• Professionals sent out on jobs didn't always take the appropriate amount of time to handle the work they had to do. Some users said that the jobs were rushed or hurried. This may be because Thumbtack providers have to pay a cut of their earnings to the site, which means they may need to work faster to make ends meet. However, taking the time to vet your potential provider and find one that has positive reviews from customers may help alleviate this issue.
Thumbtack Bottom Line
Doing all of the work around your home that's required can be a big chore. If you're like most people, you don't have the expertise to handle tough tasks. You probably don't even have the time if you've got a job and family obligations to handle daily.
Finding a trustworthy handyman can make home repairs and maintenance much easier. Apps like Thumbtack have made the process easier, and if they have service providers in your area, they may be a viable choice for you.
However, comparing prices and trying a few apps to see how many contractors are available is preferable. You may go back to Thumbtack, but doing a little comparison shopping of your own will help you find the right price, contractor, and hopefully a regular service provider you can call whenever you need them.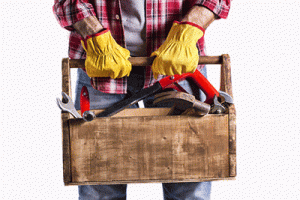 Advertising Disclosure: This post may contain promotional links. Watch the Review may be compensated if you use these links.