TrueCar
Buying a car can be a difficult experience for a lot of people. Many buyers don't even know where to start when it comes to finding the vehicle they're looking for. Apps are taking a lot of the guesswork out of buying a new or used car and making easier than ever before for consumers to do their homework and compare prices.
However, as more and more apps for used car buying come up, the harder it can be to figure out which one is right for you. That can make the buying process a bit more complicated. Is TrueCar an ideal solution for your next vehicle? It could be, but if you're like most people, you're not sure yet.
Use this review to learn more about the history of TrueCar, as well as some of the most commonly reported pros and cons. Then you'll be able to make an informed decision that leads to your perfect vehicle.
The History Of TrueCar
Founded in February 2005, TrueCar is one of the growing players in the new and used car buying app market. While they're considerably smaller than some other brands, they reported approximately 650 employees in 2016. They also took in nearly $50-million that year, making them a company that's quickly on the rise.
Headquartered in Santa Monica, California, TrueCar boasts more than two million cars in their ever-growing inventory. For consumers, this can mean a lot more options to choose from than their local dealership – or even a chain of related dealerships – could possibly offer. In fact, the network of TrueCar dealers is over 10,000, making it significantly easier for consumers to see what's on the market in and around their area.
TrueCar Pros
TrueCar is a very popular app that more and more people are using in their hunt for the perfect new or used vehicle. Here are some of the most common pros that you'll see when doing your homework on TrueCar:
• TrueCar offers a selection of both new and used cars. Some apps focus on just one or the other, making it harder for consumers to directly compare the benefits of each type. With TrueCar, you can sort or see both types of cars to help you narrow down your search results.
• You can shop by brand. Many consumers who have had good experiences with one car brand may prefer to stick to that brand when looking for a new vehicle. With TrueCar, you can sort by almost any popular brand on the road. You can even find somewhat difficult to locate imports.
• You will be able to see vehicle ratings for cars that you're looking at buying. This can take some of the guesswork out of shopping for a new or used car.
• Understanding how much you're paying versus the local or national average is easy. This gives buyers some peace of mind when it comes to avoiding overpaying for a car. It also makes it easier to compare other vehicles in your price range and their resale value.
TrueCar Cons
TrueCar may get tons of positive reviews from users, but not everybody is in love with the service. Here are a few of the most common cons that you'll see when researching TrueCar:
• Problems, where consumers see a price from a non-TrueCar location, have been an issue. When contacting the dealership, they will not honor the TrueCar price. That can cost you a significant amount in research time as a consumer. However, most cars on TrueCar have been listed by dealer affiliates, so this should not be a problem in the majority of cases.
• Prices on TrueCar can be too low, forcing dealers to sell at an unfair price. While this may not seem to impact consumers, it may be a concern when factory-related services and extras are taken into consideration. Dealers may also try to sell you on extras or unnecessary packages to recoup costs lost through the very low TrueCar price.
TrueCar Bottom Line
New cars have always been the domain of dealers, but buying a vehicle from a private seller used to be by far the most common method for locating a used car. Today, you can take care of both with an app like TrueCar. Of course, you'll need to weigh the pros and cons of looking for a car online before seeing it in person.
As with most online services, it's always best to do your own research before picking an option. This couldn't be truer than with car buying apps where you're faced with ever-growing options as a consumer each and every day. For most consumers though, an app like TrueCar can be a handy tool in the search for a new or pre-owned vehicle.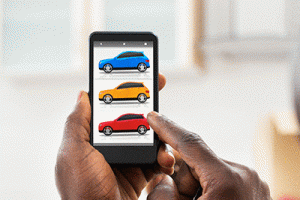 Advertising Disclosure: This post contains affiliate links and at no additional cost to you,  Watch the Review will be compensated if you make a purchase after clicking on these links.