Uber Review
Uber's transportation network provides rides for people and goods, as well as peer-to-peer ride-sharing and food delivery services. Uber is extremely flexible, providing allowing customized options for passengers. The company also operates limited services in some locations using unconventional vehicles such as boats, helicopters, and motorcycles. Uber operates in 633 cities worldwide and has provided more than five billion rides. Uber is currently involved in research and testing of self-driving cars as well.
Uber Pros
A well-established service, Uber has now been in operation for several years. During this time, the company has developed a thorough knowledge and understanding of transport and learned exactly what customers want and need. Uber offers a wide range of high-value services and includes options for passengers with pets, children and special needs. In addition, the company has a large network of drivers in a huge number of cities both in the US and internationally. This makes Uber the perfect choice for travelers both in the US and abroad. Passengers and drivers have the chance to rate each other and these ratings are visible to both parties as soon as a ride is requested. Passengers can also track the progress of their driver from the time of booking until the time of pick up. There is no maximum distance for an Uber journey.
Uber Cons
To use the service, users must install the application on their IoS or Android device. Uber relies heavily on location-based data which means that passengers need to have a reliable WiFi connection or mobile internet network. In addition, users need a working cell phone number and must link a valid credit card or payment services such as PayPal or Google Wallet. Two minutes after the car arrives at the pickup location, billing starts and if passengers cannot be located within five minutes, the journey is canceled and Uber will apply a no-show fee. The company is also not without recent media attention for some trouble with their management and drivers. Also, watch out for surge pricing this can increase the ride cost during peak times of the day or when there is a special event in your city.
Uber Bottom Line
Uber offers the largest network of flexible and economical transportation services in more locations than any of its competitors. Whether passengers are looking for a quick, cheap transport option to the office or the gym or a luxury car service to a special event, Uber can provide the appropriate service quickly and without any fuss. Special requests such as pet transport, car seats for kids and assistance for passengers with special needs are no problem and Uber also offers food delivery through its service UberEATS.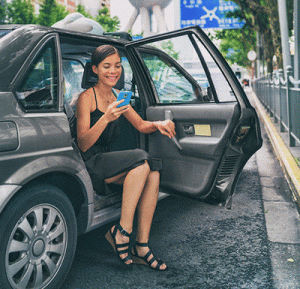 Advertising Disclosure: This post may contain promotional links. Watch the Review may be compensated if you use these links.