United Van Lines
Moving is a big job. Anybody that's ever done it before knows that. On your own, packing for a move can take weeks of your time, making you feel the stress of a move even more. If you're traveling to a new location as well, moving from one place to the other can feel like a gargantuan task you simply can't complete on your own.
While it may not be possible to completely alleviate the stress of a move, moving van lines are available to help you through the process. In fact, a range of options exists whether you're looking for a little help or you'd prefer a hands-on approach that lets you relax while others handle the job for you.
United Van Lines is one of those popular moving companies you'll come across when researching movers for your property. Read this review to learn more about United Van Lines and whether they're the right choice for your home, apartment, or business.
The History Of United Van Lines
Formed in Cleveland, Ohio in 1928, Return Roads Service, Inc. is the forefather company of United Van Lines. By 1941, the company had grown and changed enough that it was newly founded in Fenton, Missouri as United Van Service and later United Van Lines.
By 1995, the company reported its first billion-dollar revenue year. United Van Lines has regularly been featured as one of the best long-distance moving companies by multiple magazines, newspapers, and internet-based publications.
United Van Lines Pros
Many people and business owners who have moved leave rave reviews for United Van Lines. Here are some of the pros you'll read about when doing your homework on United Van Lines:
• They offer an online quote generator that gives you instant feedback. While your move can be customized to some degree, most customers like the instant quote because it gives them a good idea of what United Van Lines will charge for their services. You can talk to a customer service representative as well.
• Quotes are clear and all pricing is presented in an up-front fashion. Some people looking to hire a moving company are concerned that they'll be tricked or misquoted only to receive a bill for a higher price once the move has concluded. United Van Lines has a strong reputation for providing fair pricing that lets you know why you're spending what you're spending from the start of your move.
• United Van Lines offers a great deal of protection for damaged or lost items. In fact, they have an industry-leading policy that ensures you'll get refunded the full value of your item with their full value protection program. Unlike some companies, United Van Lines includes this in their quote so you don't have to worry about adding it as a secondary option. This can be great protection when you're dealing with costly furniture or hard-to-move items like electronics.
• You can get special services like PC network assembly and disassembly. United also offers a range of other moving services like auto transportation, appliance hookups, and trash and debris removal. These can all make your moving experience much more pleasant and help consolidate the process of getting your new home established once you arrive.
United Van Lines Cons
United Van Lines gets lots of positive reviews from commercial and residential customers. Not everybody is happy with their United experience though. Here are a few of the cons you'll come across when checking up on the company for your move:
• Customer service isn't perfect. This appears to be an issue in some locations more than others. Some customers have found that initial customer service is lacking, but their move goes well. Others have found that getting a quote was easy, but customer service during the move leaves something to be desired.
• The cost can be a little high compared to some other competitors. Built-in full value protection is likely the cause of higher rates and instant quotes that seem to be beyond those competitors will provide, making United one of the more expensive options depending on your move.
United Van Lines Bottom Line
Moving doesn't have to be so stressful when you've got help on your side. United Van Lines could be an excellent option for you if peace of mind and full-service are your goals. While the company may not be the cheapest, they're often ranked as a top moving company, particularly for long-distance moves.
Add in the fact that they can do everything from moving your computer network to your wardrobe and you've got a potential winner for your move. Their instant quote generator also makes getting a ballpark price for your move a breeze.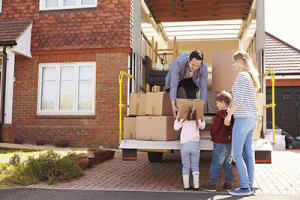 Advertising Disclosure: This post may contain promotional links. Watch the Review may be compensated if you use these links.