Weed Man
Sick of pushing that oversized lawnmower around? You've certainly given up on the push mower if you've got a yard that's any bigger than a few square feet. Let's face it – lawn work can be a big chore if you don't have a penchant for housework.
Lawn care can also be downright difficult. If you don't have the right tools handy now, you're likely to spend some serious cash on the equipment you need to get started. Couple that with a lack of free time – something almost everybody struggles with these days – and you'll find yourself wishing there was a better way.
With lawn care services like Weed Man, you may be able to get out of all of that yard work after all. Even better, professional lawn care services can have your yard looking like a million bucks if you've been struggling to get that grass green or deal with pests in an efficient manner.
Is Weed Man a lawn care service you should consider? Keep reading to learn more about the Weed Man service. You might be on the right track to finding the perfect lawn care solution for your home.
Weed Man Background
Founded in Ontario, Canada in 1970, Weed Man operated as a one-person business for about six years. In 1976, the company went into franchise mode, helping Weed Man expand to new territories. Today, Weed Man exists in Canada, the United States and even parts of the United Kingdom.
Weed Man also continues to grow through its franchise program around the world providing excellent service for your lawn's needs.
Weed Man Pros
Weed Man is a growing lawn care service with a lot of people singing the brand's praises. Here are some of the pros you'll ready when doing your research on the company:
• Weed Man offers lots of different customized services to consumers. While some companies offer one size fits all plans, Weed Man checks your lawn and garden area to see what's required before any work is done. This custom work ensures you get exactly what you pay for without add-ons and products that you simply don't need.
• Weed Man does excellent pest control work. For many people, pests are a major reason why grass isn't green and plants and vegetables aren't thriving. With multiple pest control plans and lots of expertise on the subject, Weed Man can quickly get your lawn area healthy again.
• They offer lots of organic ingredients and can help you maintain your lawn with as many natural products as possible. This is very important if you have kids or pets, or you want to grow fruits and vegetables on your property. Weed Man can also mix and match organic and common products to find the right solution for your lawn area.
Weed Man Cons
A brand that's growing quickly, Weed Man is an essential part of many people's yard care routine. Not everybody is in love with the services Weed Man has to offer though. Here are some of the more common cons that you'll find if you dig deep while you're doing your research on the internet:
• The brand isn't clear about pricing right away. While this makes some consumers nervous, many like the idea that they'll get a custom quote based on their needs. According to many users of Weed Man, the service is comparably priced when compared to other big lawn care services in their area.
• Not all franchises and locations offer the same services. It's important to remember that Weed Man is built on a franchise system, so some owners don't have the staff or product to handle all of the same tasks.
• Weed Man doesn't do any commercial work. While different franchises do offer different services, as of 2019, it appears that commercial work is not among the list of options. This can be a problem for small business owners who could otherwise benefit from working with large lawn care services companies like Weed Man.
Weed Man Bottom Line
For many homeowners, Weed Man is an ideal option when it comes to the top lawn care services. With a variety of packages and services tailored to your home, a lot of people love the flexibility that Weed Man offers. Quality pest control work and the ability to use organic ingredients make Weed Man the first call for many customers.
Finding negative reports on Weed Man is difficult in general, and while some customers have complained about pricing structures and different franchise services, these are minor issues that don't impact the majority of users. Overall, Weed Man is a well-liked service that's a solid choice for both residential customers looking to hire lawn care service providers for their property.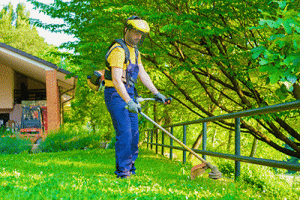 Advertising Disclosure: This post may contain promotional links. Watch the Review may be compensated if you use these links.