WordPress
WordPress is a major player in the build-your-own website game. In fact, they've been around longer than most people think. While it used to be difficult to create your own website for personal or business use, it's companies like WordPress that have greatly simplified the process for most people.
With sites like WordPress, you can now build your own website in much less time than it used to take. You won't have to spend countless hours learning HTML code or rely on professionals to do it either. The fact is, most people can build a website that gets them exactly what they want in just a few hours.
Is WordPress an ideal option for your small business or personal web page? Use this guide to learn more about WordPress and whether or not they're an ideal solution for you.
The History Of WordPress
Initially opened to beta-testers in August of 2005, WordPress started as a platform designed for personal blogs. As the company grew, the brand began to branch out into more complex websites, offering users a platform to create their own long before the template-based brands were even in business.
Today, WordPress aims to meet the demands of a new generation of users who want a simple, quick way to create a website that will work for their business or personal needs. As of 2019, WordPress is the home of major businesses like Volkswagen, CNN, and many others.
WordPress Pros
WordPress has been around a long time, which may be one reason they're so popular. Another might be the fact that many customers rave about the product they have to offer. Here are a few of the most common pros you'll find when researching WordPress online:
• WordPress offers a wide range of different pricing plans for personal users to take advantage of. With WordPress, blog and personal sites range from about $3 to $8 per month, making them a very affordable option no matter which plan you choose.
• The company offers a lot of different plans for business users. Starting at $8 per month and going to close to $50 per month, business users can get a site tailored to their specific needs. More expensive plans also feature e-commerce pages that allow small business owners to sell goods directly from their site.
• Many plans feature unlimited storage space, which can be very helpful for individuals hosting videos, movies or business owners who have a lot of different pages. Storage space is a common complaint you'll see when researching other web building platforms since it is often very costly for the end user once a certain plateau is reached.
• They offer great SEO and marketing optimization tools. From connecting your website to social sites like Facebook and Instagram to working with a secondary provider like MailChimp, WordPress seems to excel in this area. Many business users especially appreciate these features since they allow them to quickly and easily track their progress when it comes to building a recognizable brand.
WordPress Cons
Most of what you'll read about WordPress online is positive. Dig through the glowing reviews though and you'll see that not every single customer is a satisfied one. Here are some of the more common cons that you'll see pop up when it comes to WordPress:
• There aren't enough options when it comes to templates and easy design. With sites like Squarespace popping up, more and more customers want a bevy of templates to use for their basic design. While WordPress does offer these, it's not a specialty of the site. Instead, they focus on giving users access to a clean platform for building their ideal site with limited knowledge of web-based design.
• Inexpensive plans aren't flexible enough. While this might be a common complaint, the fact is that WordPress offers a range of different plans so you can get exactly what you need. Some users may be frustrated at the idea of needing to upgrade or pay more, but all website building platforms work on this model in 2019.
• Customer service can be hard to reach. WordPress is a big brand, and in some user experiences, they may be difficult to reach for help. The good news is that WordPress does operate a forum and answers regular questions in a FAQ that all users have access to 24/7.
WordPress Bottom Line
A wonderful option if you want more control over your final website, WordPress is home to many major businesses for a reason. Fully customizable and with numerous pricing plans, there's little to complain about for experienced and intermediate users.
Some new users complain that the site can be hard to navigate, but this is often balanced out by flexibility and greater control. As with all web-based services, WordPress is only one option and doing your homework before signing up can save you some serious headaches down the road.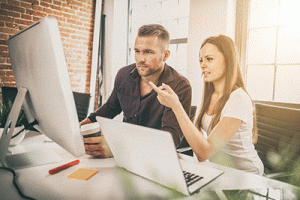 Advertising Disclosure: This post contains affiliate links and at no additional cost to you, Watch the Review will be compensated if you make a purchase after clicking on these links.