You've Got Maids Review
Home cleaning services are springing up everywhere these days, giving homeowners and renters an easy way to hire housekeepers that have been vetted and deemed trustworthy. These home cleaning services also aim to make it easier to schedule appointments and get the quality cleaning you need for your home even if you don't have time to tackle the job for yourself.
Among the top home cleaning services in many areas you'll find the You've Got Maids franchise. With many locations spanning the US from coast to coast, You've Got Maids is a go-to cleaning service for many people. Are they right for you though? Use this review to see if you should hire You've Got Maids for your home.
The History Of You've Got Maids
Founded in 2010 by entrepreneurs and owners Frank and Cynthia, You've Got Maids is a personal project for the life partners and business owners. Both the children of immigrants who built their lives in the USA on cleaning careers, Frank and Cynthia have a personal connection to the importance of a clean home.
While the pair got started in the franchise game through the Domino's Pizza brand, they quickly saw the need for a cleaning company that provided the same uniform services as the above-mentioned pizza brand. With the goal of creating a cleaning service that was the same no matter where you went in the country, You've Got Maids now has more than 50 franchise branches in less than 10 years.
Today, the company continues to grow and provide quality cleaning services for residential customers throughout the US.
You've Got Maids Pros
You've Got Maids generally receives very high praise from the people who use the service. In fact, even first-time customers rave about their services and the quality cleaning they have done in their home. You've Got Maids pros include:
• Simple pricing structure. Unlike some home cleaning services, You've Got Maids lets you buy hours of maid time, making it easy to see what you'll be spending. Some customers prefer this to a more specialized pricing model based on your home and your particular needs.
• Range of services provided. Perfect for homeowners looking for traditional housekeeping services, You've Got Maids provides bathroom, living space, bedroom, and general home cleaning. In general, You've Got Maids provides most of the same basic services that a standard housekeeper might provide.
• Eco-friendly cleaning services. Ideal for customers who have pets and kids in the home, or who simply don't want to use chemical-based cleaning products, green cleaning is an option when you hire You've Got Maids.
• Trained maids. All maids who work through You've Got Maids are trained to provide the quality cleaning and customer service that the brand is known for.
• No contract required. You can hire You've Got Maids once or schedule weekly, bi-weekly or monthly cleanings.
• 24-hour satisfaction guarantee. Customers who are not happy with their cleaning services have 24 hours to ask for a re-clean at no charge. Many customers love this, especially when it comes to touch-ups and areas of the home that were missed.
You've Got Maids Cons
You've Got Maids is a popular service where they have branches. However, not all customer ratings are rave reviews. Here are a few of the potential cons you might find when hiring You've Got Maids to clean your home:
• Cost. Some users find that the hourly rate of You've Got Maids is high. Some also report that they spend more than they planned due to the fact that the cleaners needed more hours to do basic work than expected.
• Lack of availability. With just 50 franchises, You've Got Maids may not be available in your area. Others have reported that scheduling is not always easy.
• Lack of crew. Getting the same cleaning crew is important for many people, but it isn't always possible with You've Got Maids. However, this is common with most cleaning services since there's no way to guarantee available staff members ahead of time.
• Few specialty services. You've Got Maids is a general cleaning service, and more difficult tasks like carpet care or hardwood floor maintenance may be too much to ask of their cleaning crew.
You've Got Maids Bottom Line
You've Got Maids gets high scores from most of the customers who take advantage of the service. While some customers go into the process with trepidation due to the hourly billing cycle, most find that they pay a fair price for the services rendered. If you're looking for a basic home cleaning service, You've Got Maids could be an ideal option.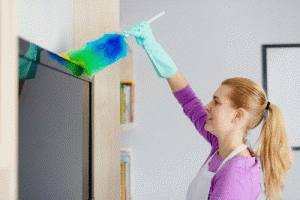 Advertising Disclosure: This post contains affiliate links and at no additional cost to you, Watch the Review will be compensated if you make a purchase after clicking on these links.
​