Monday.com
Getting your team organized and up to speed on a project can be difficult to do in today's modern age of working from home, the neighborhood coffee shop or pretty much anywhere on the globe. While technology has made the need for oversized offices practically obsolete, team members spread out all over a city or the world can make finishing projects on time somewhat difficult.
Project management software solutions have become a go-to problem solver for many small businesses. Particularly popular in the tech sector where brands build web products, develop apps or work on a website launch, project management software can help you meet deadlines, manage workflow and even brainstorm ideas with far-away colleagues.
Monday.com is one of those project management software solutions. A popular option today, many brands from small companies with a few employees to mid-sized and enterprise businesses are using it. Is Monday.com right for you?
Use this guide to learn more about Monday.com now. Don't forget to check out the rest of our reviews on project management software solutions today.
The History Of Monday.com
Initially built as an internal tool for the popular website creation company Wix.com, Monday was first launched in 2010. By 2012, Monday.com was launched under a separate business arm so other users outside of the Wix company could take advantage of this flexible project management solution.
Since 2012, the Monday.com brand has raised nearly $250-million to promote and grow the company, making them a major player in the project management software market. As of 2020, the company has a $1.9-billion valuation with users all over the world. The platform continues to grow.
Monday.com Pros
Monday.com is extremely popular among small businesses looking for ways to connect employees and stay on top of project progress. Here are some of the pros you'll read about when doing your homework on Monday.com:
• The platform is flexible and very easy to customize. For businesses with specific needs and goals, being able to tailor Monday.com in a variety of ways makes the software much more powerful.
• Monday.com offers businesses instant messaging built into their platform. For many small business users, this allows Monday.com to be a more complete solution than some other project management software offerings out there.
• Monday.com offers public and private boards, allowing personal workflow to be different than group workflow. Most users report that integration of these two types of boards is seamless, making their workday more productive.
• The customer service team is very helpful. Diving into new project management software can be confusing, leaving many new users with questions. Online reports show that the Monday.com customer service team is quick, highly-responsive and very helpful no matter what issues arise.
Monday.com Cons
Monday.com is popular with many small businesses, but not everybody is head over heels in love with the platform. In fact, some users have complaints about several issues. Here are some of the more common complaints you can find:
• The mobile app isn't as efficient as some users would like. While the software was primarily designed for desktop or laptop use, many users want to have Monday.com on the go via their phone or tablet. Regular Monday.com users complain that the interface is simply too different and considerably less functional.
• Small teams may need to pay for additional guests. For many small companies, guest users help get specific projects done. Through Monday.com, you're only allowed a few guests depending on the number of regular users that you pay for. Some Monday.com users find this limiting and frustrating when they have to add users to enable more guests.
• Some users complain about the color scheme and layout. Certainly individual preferences, some find the GUI to be a bit limiting or a little bit confusing compared to other project management software options.
Monday.com Bottom Line
Project management software solutions are extremely popular today, and for many small, mid-sized and enterprise-level businesses, they make day to day operations much more productive. They also work to keep employees and independent contractors linked on projects so that deadlines don't pass without project completion.
If you're looking for an all-in-one solution that offers project management, a marketing calendar, time tracking, task management, workflow management and instant messaging, Monday.com could be a smart solution for you. While it can cost more than other platforms if you have 10 or more users, many companies feel that what they get through Monday.com more than covers this new expense.
Of course, you may not need all of the different features available through Monday.com. Companies already using programs like Slack may find that a cheaper alternative is preferable. Doing your research and checking into a few different project management software solutions is a must.
You may end up coming back to Monday.com though, as many businesses now claim that the unique software is a big part of their daily operation.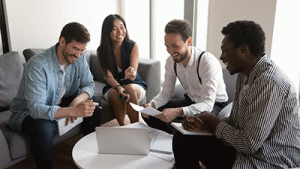 Advertising Disclosure: This post may contain promotional links. Watch the Review may be compensated if you use these links.
---
Monday.com Review FAQs
Can I take online project management classes?
Yes, there are many sites that offer training for Project Management. You can start at the Project Management Institue (https://www.pmi.org) *NOTE - WTR has no affiliation with PMI and receives no compensation for recommending.
---