Zoom
Video conferencing allows you to catch up with friends and family members from the comfort of your couch. It also makes work easier for freelancers who use home offices and companies who work with individuals out of their main office.
Companies like Zoom aim to make video conferencing simple, easy, and even fun. With quality tech and an easy-to-use system, Zoom is often referred to as the cream of the crop when it comes to video conferencing.
Is Zoom the right pick for you? Check out our review to learn more.
The History Of Zoom
Founded in 2011 and headquartered in San Jose, California, Zoom is a major player today when it comes to video conferencing software. With a $1-billion valuation in 2017, Zoom reached the NASDAQ-100 stock index in early 2020.
As of late 2020, more than 300-million daily meeting participants are using Zoom.
Zoom Pros
Zoom is one of the most popular pieces of video conferencing software available today. While this may have something to do with the high profile of the company as of late, many users claim that Zoom is by far the best option when it comes to video conferencing. Here are some of the pros you'll read about when researching Zoom:
• Zoom is stable and reliable. Video conferencing can mean a jumpy screen and tons of audio drop-outs. Zoom users report that those glitches are quite rare when they're using a stable internet connection. For this reason, Zoom is often considered to be one of the most reliable video conferencing software solutions on the market.
• You can get a lot of features for free. Video conferencing can be costly, but Zoom gives users on a free plan quite a bit to work with. Some small businesses or independent contractors may even find that the collaborative features are enough to get them through the workday and regular meetings with ease.
• The cost is fair if you need to sign up for a paid plan. Heavy video conferencing users and business users may find that they quickly use up their allotment of minutes with a free plan. Some users may find a cap on the number of participants involved to be limiting. For those users, paid plans start at just $14.99 per month, making Zoom a cost-effective option for anybody. Large scale business plans do cost more, but even those prices are reasonable when compared to other video conferencing services of the same caliber.
• Zoom makes every attempt to fix problems and remedy customer complaints. The company has even gone so far as to implement new features simply because a large number of users were asking for them. In this way, Zoom customer service and support really go above and beyond according to most regular users.
Zoom Cons
Video conferencing giant Zoom may be very popular today, but not everybody who has tried it has loved it. This includes personal users and businesses looking for an interactive way to connect people around the world. Here are some of the cons you're likely to find when researching Zoom:
• There are some security and privacy concerns. While Zoom claims it does offer some level of encryption, some users have found that privacy and security are still big considerations. One factor is that many Zoom meetings can be recorded, allowing one or more users to save the meeting for view at a later date. Though this feature might be helpful, it can be a problem for those who value privacy in all of their online communications.
• You can't access toll-free dial-in numbers in the US or the UK. While this isn't a big problem for most users, some businesses, particularly those that deal with independent contractors, have complained that they don't have a way to include everyone quickly and easily.
Zoom Bottom Line
Zoom is a service with a lot of features that users love. Low-cost options are at the top of the benefits list for most. Though many people choose the free option, few feel like they're being deprived, making Zoom a great choice if you don't want to spend more money.
Reliability and ease of use are also crucial to Zoom's success. Users claim they're up and running quickly even if they're using the video conferencing software for the first time. The ability to stay connected is also an important feature.
For business users sharing sensitive information, there are a few privacy concerns. This may also be true for users who are simply worried about their personal information. However, Zoom does offer some level of encryption for most basic calls between users on the app itself.
If you're searching for video conferencing software for home or business use you'd be hard-pressed to beat Zoom. Put them on your shortlist of must-try software today.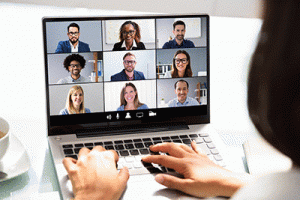 Advertising Disclosure: This post may contain promotional links. Watch the Review may be compensated if you use these links.