What To Do If You Get Into An Accident In A Rental Car
It is never pleasant being in a car accident. If the car is a rental, it can be even more stressful. However, by following the correct protocol you will be able to keep stress and paperwork to a minimum. Proceed as if it were your own vehicle you were driving.
How To Proceed After Getting Into An Accident In A Rental Car
1. Make sure the other driver and all passengers are not harmed.
2. If anyone is injured, call 911.
3. Clear the area.
4. Call police or traffic control to the scene, to direct traffic and pedestrians.
5. Once the scene is safe exchange contact and insurance information and take pictures if possible.
6. Do not inform anyone that it is a rental. Treat it as if it were a personal vehicle.
7. Leave the scene as soon as it is safe to do so.
8. Read the fine print on your insurance plan and that of the rental company's insurance policy.
9. Contact the rental company to inform them of the accident.
10. Contact your own insurance company.
Top Rental Car Services For Your Next Vacation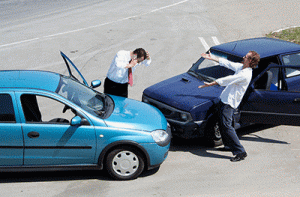 What You Need To Find Out After Getting Into An Accident In A Rental Car
1. Will your own insurance company file the accident report on your behalf?
2. Does your insurance policy include collision and comprehensive coverage as well as the minimum liability coverage required by law?
3. How much will your deductible payment be? You can usually expect the deductible to be around $500+.
4. Does your active policy have first-party coverage? No matter who is at fault, you will need to pay the deductible directly to the rental company. This is so that they can get the rental car fixed as quickly as possible. Your own insurance company will then recoup any costs from the responsible party.
Be Warned After Getting Into An Accident In A Rental Car
If you had no collision waiver or rental coverage on your policy, you will most likely be liable for the rental charges for every day the vehicle is off the road. If your policy does carry loss of use coverage, you may have a maximum limit attached to it. If so, you will be liable for any amount above the limit stipulated in your policy.
Always Read The Fine Print When Renting A Car
Did you buy extra insurance from your credit card company or from the rental company? If you paid premium rates for full coverage, the rental company will pay for their vehicle and the other vehicle. The deductible from your own insurance can serve as a secondary form of coverage if the limit is too low on the rental policy. Read both policies to see which one will pay out first.
If a collision waiver was signed it releases the person renting from being responsible for the rental vehicle, but a claim must still be made for any medical bills. This will cover the claimant from being sued personally for injuries from any parties involved.
If you find yourself in any doubt regarding any paperwork, or something just doesn't add up, it is always advisable to speak with an attorney before proceeding. In the case of serious liability such as this, it is always better to be safe than sorry.
---
Car Rental | Car Accident? FAQs
What Is the punishment for fleeing the scene of an accident or
The penalties for felony hit and run can be quite serious. Most states impose fines of between $5,000 and $20,000. Depending on the nature of the accident, punishment can be as much as 15 years in prison.
What is a fair deductible on a car accident?
Common auto insurance deductible amounts in 2020 are $250, $500, and $1000.
What is first party or no-fault coverage?
First Party or No-Fault Coverage is the coverage you carry on your policy which is available even if the accident is not your fault but the fault of another person.
---
Advertising Disclosure: This post may contain promotional links. Watch the Review may be compensated if you use these links.