Which Type Of Cloud Service Is Best For You?
Whether you are working from home and doing your part to safeguard critical files, running your own home-based business, or just going about your life, having the right data storage and backup solutions in place is essential. In this brave new world of cybercrime and endless data breaches, protecting your information has never been more important.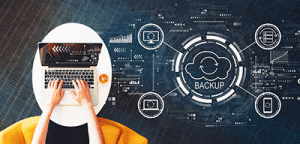 If you fail to develop and employ a comprehensive data security, storage and backup solution for your home or business, you are at the mercy of the cybercriminals – and one hard drive crash away from disaster. Whether the problem is human-caused hacking or just mechanical failure, the results are much the same.
If you do not want to lose your data in the next breach or hard drive crash, you need to take proactive steps to keep it protected. And while cloud storage is a good first step in protecting your data, it may not be enough to keep yourself and your company safe. Here are the key differences between cloud storage and cloud backup solutions, so you can make a more intelligent and informed solution.
Review These Top Cloud Storage and Backup Services
You May Already Have a Cloud Storage Account
Even if you are new to working from home or running a business, you may already have a cloud storage account. If you have a Google Drive account, iCloud account, or similar service, you already have some type of cloud storage in place.
How you set up that cloud storage account and which files you choose to protect will make all the difference, so check your settings and make sure your data is being transmitted and saved regularly. You may need to manually upload new files to your cloud account, so set a reminder to keep yourself on track.
Cloud storage is a good first step, especially for home users and some small businesses. This type of storage is perfect for storing family photos, important documents, and anything else you do not want to lose. Cloud storage is also a great way to free up space on smartphones, tablets, and other mobile devices, so you can get more done and enjoy faster and better performance.
Cloud Backup Takes Protection To The Next Level
Backing up your videos, family photos, music, and documents to your cloud account is a good first step, but it is probably not enough. While good, cloud backup sites like Google Drive and iCloud often require manual intervention, and it is easy to forget to synchronize those files. As a result, you could still experience a significant amount of data loss if your hard drive crashes unexpectedly.
Even worse, if your computer or mobile device is infected by malware or a virus, you could unknowingly move an impacted file into your cloud account. By the time you find out that something is wrong, any clean versions of the infected files could already be gone.
That is why it is so important to supplement your existing cloud backup strategy with a cloud backup program. Cloud backup is more streamlined, more formalized, and easier than simple cloud storage, and it deserves a place in your comprehensive disaster recovery program.
Once your cloud backup program is in place, you will choose the files and folders you want to save to the cloud. The backup program will take it from there, making copies of the indicated files and moving them safely to your cloud account.
In addition to these backup services, many cloud backup providers, such as iDrive and Carbonite, include built-in protection from malware and viruses, giving you extra peace of mind and giving you one less thing to worry about.
No matter who you are, where you live, or what kind of job you do, you have a lot riding on your data. From proprietary company secrets that could do enormous harm to your company if they fell into the wrong hands to priceless family photos that can never be replaced, these files live on your home computer, smartphone, business servers, and dozens of other places. By implementing a cloud storage and backup solution, you can keep all those files protected and in one place, so they will always be there if the worst happens.
---
Cloud Storage vs. Cloud Backup FAQs
What is the average storage size for Google Drive and iCloud Cloud Storage accounts?
As of the date of this writing, you get 15 gigs of storage with Google Drive and 5 gigs of storage with iCloud. Both are free and offer premium packages.
What's the difference between malware and a virus on your computer?
Malware software is specifically designed to disrupt, damage, or gain unauthorized access to a computer system. Whereas a regular computer virus a piece of code which is capable of copying itself and typically has a detrimental effect, such as corrupting the system or destroying data.
Should I compress my digital photos to save hard drive space?
It is not recommended as once you compress a photo you will not be able to reverse it. Compressing a photo's size can degrade the picture quality and also make in incompatible with certain software.
---
Advertising Disclosure: This post may contain promotional links. Watch the Review may be compensated if you use these links.