Movie Theaters Are Reopening | Here's What to Expect
When the spread of the internet brought about digital streaming services, many people thought that it was the beginning of the end for movie theatres. However, these facilities have proved to be an essential part of the film culture, offering an experience that cannot be replaced by the internet. As a result, they continued to thrive alongside digital platforms, attracting millions of moviegoers and earning billions of dollars in revenues. And then the Covid-19 pandemic struck.
The Disruption Of The Movie Theater
The pandemic disrupted the way people lived and interacted worldwide, with the entertainment industry among the worst affected sectors. The nationwide lockdown limited the movement and interaction of people, leading to the closure of movie theatres among other facilities. People were no longer able to catch their favorite blockbusters, and many anticipated films had to postpone their release dates indefinitely.
With the continued distribution of vaccines, there is hope that the lockdown will be eased soon and the movie theatres will be reopened. But now that people have been away for more than a year, going to the movies will not be the same. The lockdown has certainly brought certain changes regarding customer behavior and the operation of the theatres. This article explores some of the changes we can expect to see once the movie theatres reopen.
Watch the Review of These Top Digital Streaming Services
What Were the Movie Theatre Alternatives During Lockdown?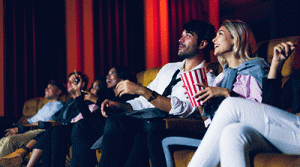 Movie theatres were not just facilities for catching the latest films. They offered a whole experience and were used by people for dates, celebrating anniversaries, enjoying a weekend out with family, etc. Their closure forced most moviegoers to look for other alternatives. These included home activities like baking and indulging in DIY. Most people also resorted to home entertainment such as video games and online streaming services such as Netflix and Hulu.
What Is The Effect Of Digital Streaming Services On The Reopening of Movie Theatres?
Some filmmakers believe the crisis only fueled what was already in play as the film industry was already headed towards in-home viewing for movies and general film content. The closure of physical gathering places like movie theatres and stadiums led to a tremendous increase in the use of streaming platforms and online video games. Statistics by Netflix show that they gained 10 million new subscribers in 3 months during their 2021 second quarter.
Production companies had to turn to digital streaming services for them to stay in business and keep releasing content to their target market. For instance, Warner Bros, a renowned film studio in the US, decided to serve all its movies on HBO. Movie fanatics can now enjoy 2021 film releases from the comfort of their home by streaming through HBO Max. The increase in the use of streaming services could mean that most people who would have preferred to catch their movies in theatres have now converted to home viewing. As a result, digital streaming may slow down the return of movie theatres if more film producers decide to release their content online.
When the movie theatres return, there will be some changes in place. These will be aimed both at ensuring the health and safety of the customers and staff and improving the general experience to attract more visitors.
Reopening Movie Theaters Health And Safety Measures
A recent survey showed that most people would feel safe watching a movie in places that observe the three main coronavirus safety measures: mask-wearing, increased sanitation, and social distancing. Cinemas have to adapt fast or risk facing extinction as the world changes its ways due to the effects of the pandemic. Moving forward, movie theatres will have to adopt a more reserved approach to maintain the few visitors who will continue to opt for theatres.
Moviegoers and staff must also be willing to wear masks, as Covid-19 measures continue to be enforced to keep the virus spread low and contained. Although it is essential that you always carry your mask, some movie theatres might provide disposable masks at the entrance.
The entrance process will include temperature checks to filter out those showing symptoms of Covid-19. While handheld temperature readers would be ideal, technological companies are coming up with thermal imaging solutions which will be suitable for large groups of people and will also have a low error margin.
Reopening Movie Theater Sanitation
Sanitation points will have to be strategically placed in different points of the movie theatre to motivate clients to wash their hands or sanitize frequently. Longer breaks between shows will be the new norm to allow cleaners to clean the theatre and sanitize all surfaces thoroughly. This may be disadvantageous on profits, as fewer shows will be scheduled for each day.
Ticketing and Attendance After Movie Theater Reopening
Ticketing will have to be online as theatres aim to reduce physical contact that was previously experienced in the hard copy ticketing process. Online sales of tickets will also allow venue management to control crowding and ensure a seamless flow of people at all times. Contactless payment methods are also a safety measure that will be adopted to eliminate physical interactions when paying for snacks and other concessions at the theatres.
Capacity After Movie Theater Reopening
Movie theatres will not accommodate the ordinarily full capacity and will instead limit attendance to half. Hopefully, the capacity will later be capped at three-quarters and eventually, theatres will be able to hold maximum capacity again. Another option for social distancing would be to choose to rent movie theatres and have a closed movie session. Reducing the number of people in the cinema halls will allow moviegoers to observe social distancing as instructed by the World Health Organization.
Movie Theater Face-lifts
Theatres may have to get a facelift as a way of attracting moviegoers. Luxury seats and clustered seat pods are a great way of ensuring social distancing while increasing customers' comfort.
Drive-ins are now being embraced, as they are a safe option to leave the house and enjoy a movie without any physical interaction with strangers. Car owners in drive-in theatres connect their speakers to the location's Bluetooth system to have audio while sharing a common screen with the rest of the attendees.
What Are The Alternatives For Moviegoers Who Choose To Stay Indoors?
Consumers have realized that streaming is more convenient and cost-efficient than going to movie theatres. There is a vast list of online streaming services that they could choose from for moviegoers who still choose to stay at home and watch movies online.
Although studios might have to produce low-budget content to break even, the film industry has done an impeccable job staying afloat in such hard times. The government has also played an important role by offering grants to small production companies to keep them alive. The future is bright, and the industry is willing to conform to whatever changes for its success
Advertising Disclosure: This post may contain promotional links. Watch the Review may be compensated if you use these links.
---
The Return of the Movie Theaters FAQs
What's the average monthly cost of a digital streaming service?
At the time this article was written, the monthly fee for a digital streaming service ranges from $5.99 to $69.99 a month.
What is involved in movie theater sanitation?
In addition to movie-goers having to wear masks and social distance, movie theater employees will conduct frequent hand washing, theater HVAC systems will be continuously distributing filtered air, high-touched surfaces will be continually wiped down with EPA friendly cleaner, and employees will continue to be trained in understanding the signs and symptoms of Covid-19.
What concessions will be available at movie theaters?
A limited menu will be offered to aid with speedier service. However, popcorn and soft drinks will be available. Unfortunately, refills will be temporarily unavailable.
---