Diabetic Friendly Fresh Summer Guacamole Recipe
California, the Sunkist State, is well known for its bounty of fresh fruits and vegetables and summertime might be the best time of year to enjoy the abundance of goodness that comes right here on the West Coast of the United States. A variety of flavorful produce can be derived from and in some cases directly associated with sunny California. Some key examples that come to mind are; Fresh summer Strawberries from the alluvial flats of Oxnard where the annual Strawberry Festival is held. Avocados can be found everywhere in Southern California and perhaps the most popular place is in Carpinteria, California located in beautiful Santa Barbara, County. Gilroy, California is known as the Garlic capitol of the state and is where the annual Gilroy Garlic Festival is held. Valencia, California is famous for its citrus and Oranges in particular. Ojai, California is the home of the coveted Pixie Tangerine, a sweet and tangy varietal of Tangerine indigenous to Ojai. With so many beautiful colors and flavors available in the summertime, it is hard to not find some inspiration when planning healthy Summer meals.
When Diabetic Meal Planning, many things must be taken into consideration. Generally speaking, meals should be lower in carbs and nutrient-rich. One of my favorite recipes, Fresh Summer Guacamole, has been in my family since I can remember. My Grandmothers lived across the street from each other in Highland Park, California a suburb of Los Angeles. My Father's mom had a huge Avocado tree in her backyard and Avocados were always around. As a matter of fact, I can remember many occasions where I was allowed to have as much Guacamole as I could eat. I was truly blessed as you may know that Guacamole doesn't usually last long at social gatherings and leaves most wanting more. Over the years I have played with different ingredients and styles of Guacamole, and this recipe is delicious and healthy.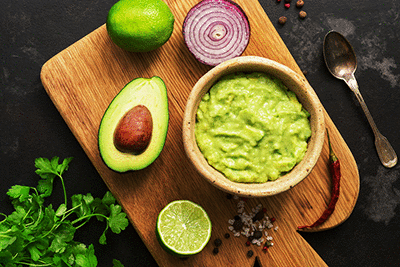 Diabetic Friendly Guacamole Recipe
1. 6-8 Ripe Avocados
2. 4-6 Fresh Garlic Cloves
3. 1 Small to Medium Red Onion
4. 1 Handful Fresh Cilantro
5. 1-2 Fresh Habanero Peppers, Seeds and Ribbing Removed (Optional)
6. ¼ Tsp Cumin
7. ¼ – ½ Tsp Sea or Kosher Salt
8. 1-1½ Fresh Limes
1st Remove the Avocados from their skins, saving 2 of the pits for preservation and presentation. Mash the Avocados into a large mixing bowl. 2nd Smash the Garlic Cloves into a paste using a Pestle and Mortar or Food Processor. 3rd Cut the Red Onion into a fine dice. 4th Chop the Cilantro finely. 5th Prepare the Habaneros by carefully removing the seeds and ribbing as those are the spiciest parts of the pepper. This will ensure that the bright, fruity, and floral qualities of the Habaneros are present but not at the expense of making your Diabetic Friendly Summer Guacamole too spicy. Cut the Habanero into tiny pieces. Using Nitril gloves can be a good idea here as the oil from the Habaneros is pervasive and will transfer to anything you touch, and I do mean everything. 6th Cut the limes into squeezable wedges. 7th Combine all of the diced ingredients into the large mixing bowl with the Smashed Avocados. Squeeze the Fresh Lime wedges into the mixing bowl making sure to remove any seeds if there are any. 8th Sprinkle in the Sea or Kosher Salt and Cumin and stir the ingredients together until your Diabetic Friendly Summer Guacamole is uniform. 9th Lastly taste for salt and garnish with the Avocado pits and Sprig of Fresh Cilantro. Serve with Tortilla Chips, Tacos, Burgers, Salads, Freshly Toasted Sourdough, or with just about anything.
This popular dish will be a hit with just about any crowd. It may serve you to let your guests know that it is a little spicy. A guaranteed Summer winner, this Diabetic Friendly Summer Guacamole will not last long and most likely will be requested by friends and family at every Summer gathering.  Bon Appetit!
About Our Guest Writer:
Tim Delaney, Content Writer.  Tim studied Environmental Science at the University of California, Santa Barbara.  He is an avid outdoor enthusiast, loves to surf, is passionate about health, and discovering ways to enjoy life with diabetes.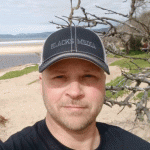 Advertising Disclosure: This post contains affiliate links and at no additional cost to you,  Watch the Review will be compensated if you make a purchase after clicking on these links.
---
Diabetic Guacamole Recipe FAQs
Are there any substitutions you might make or recommend?
There are lots of recipes for guacamole, but the best always seem to be the simplest. That being said, some of us might add tomato chunks, and ditch the cumin. You may or may not want to remove the garlic, based on how spicy you like it, and of course, serving suggestions are plentiful because guacamole is extremely versatile.
How long will guacamole keep?
Guac is best eaten when it is at its freshest, but how long it lasts depends on storage and ingredients. With the addition of lemon and/or lime juice (fresh squeezed, of course) it may last up to a week. Also placing plastic wrap flat against the surface of the guacamole to limit oxygen and aging will discourage discoloration.
Can guacamole be frozen?
It would be nice to be able to enjoy guacamole in the winter, but it does not freeze and thaw well. However, when there is a shortage of avocado in California, many Mexican restaurants will use baby squash and a little smoked poblano chiles to make guacamole that tastes just like the real deal.
---