Enjoy A Healthy Delicious Taco
Here is a terrific diabetic taco recipe that can be enjoyed every day and is great for Cinco de Mayo, Memorial Day, 4th of July and all of the summertime celebrations to commemorate the warmest and sunniest days of the year. School is out for many students and the beaches are filling with sunbathers. Vacations, barbeques, pool parties, and summer projects are all on the minds of everyone. Lemonade, watermelon, strawberries, and margaritas all being prepared to make the festivities more memorable. With all the fun and food around it's easy to get caught up in it all and feel the ease of summertime living. It's no wonder so many people claim this to be their favorite time of year.
Everyone has their favorite summer meal; Barbequed chicken with corn, baked beans, and garlic bread. Grilled tri-tip with onions, peppers, and summer squash. Cheeseburgers and hot dogs with mom's potato salad. The flavor combinations are endless.
For a diabetic, it is important to make the best choices when it comes to celebratory eating. Should I have a margarita? Another hot dog couldn't be a bad idea, could it? Should I have a piece of that delicious peach pie? So many things to consider for a diabetic when it comes to mealtime and celebratory meals make the decision making even more difficult. Everyone should be able to enjoy a 4th of July cookout and Diabetes should not hold someone back from having an incredible summer, though planning good strategies and exercising some restraint can go a long way in giving a diabetic more summers to enjoy.
One incredible summer meal that is easy to prepare and liked by all are Street Tacos. I have become very fond of making Street Tacos and have found that the variety of tacos you can make is limitless. My favorite happens to be from easy to find and prepare ingredients that can be found at nearly any local grocery chain. This meal is fairly light with plenty of protein and fiber and can be made to anyone's particularities.
Recipe for Diabetic Tacos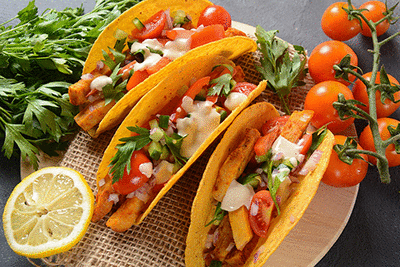 Rotisserie Chicken Tacos
Store-bought Rotisserie Chicken
Corn Tortillas (20-80)
Avocados
Cherry or Grape Tomatoes
Cilantro
Red Onion
Store-bought bagged Cole Slaw
½-1Tbsp Mayonnaise
Cooking Instructions
1st Place the desired number of Corn Tortillas into a small pan over low heat and cover. The tortillas will lightly steam and be perfect temperature after you have everything prepped. 2nd Cut the Red Onion, Cherry Tomatoes, and Cilantro into a small dice that will be easy to layer into the tacos. 3rd In a small mixing bowl combine the Mayonnaise and Cole Slaw to your preferred consistency. 4th Similarly cut the Avocado into diced pieces for layering. 5th Take the Rotisserie Chicken from its packaging and Pull or "render the chicken into pieces using your hands." Having removed the meat from the bones and separating the dark and light meat you may choose to cut the breast including the skin into strips that will fit nicely into the tortillas. If you are entertaining guests it is helpful to put all the ingredients into small bowls with spoons so that each person can add whatever they like to the taco.
All that is left to do is to assemble the tacos. The tortillas will be nice and hot and can be left covered in the pan for the next round. Add some Chicken to the Tortilla first and top it with a little Cole Slaw. Next add some freshly chopped Onion, Cilantro, Tomato, and Avocado. Try one Tortilla with only Chicken, Cilantro, and Onion and you've got a true Street Taco.
This meal will have your mouth watering before you even get started. The best thing is that it is easy, inexpensive, and can be put together on very short notice. It's a hit with kids, elderly, and pets. Try different versions of Street Tacos and you'll find an endless array of combinations that work well together. In Santa Barbara, California where I live a very popular version of Street Taco is made with Tri-Tip, a cut of steak made famous right here in our neighboring city Santa Maria. Trip-Tip Street Tacos with sautéed onions and peppers is a must-try.
About Our Guest Writer:
Tim Delaney, Content Writer.  Tim studied Environmental Science at the University of California, Santa Barbara.  He is an avid outdoor enthusiast, loves to surf, is passionate about health, and discovering ways to enjoy life with diabetes.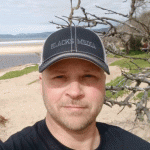 Advertising Disclosure: This post contains affiliate links and at no additional cost to you, Watch the Review may be compensated if you make a purchase after clicking on these links.
---
Diabetic Taco Recipe FAQs
Can I substitute flour tortillas for the corn ones?
No. Some of us can, but if you're reading this and you're diabetic, remember that flour tortillas are just slices of bread pressed flat, so they will have an effect on glucose levels, whereas corn tortillas are (usually) gluten-free and have fewer carbohydrates, making them a better choice for diabetic diets.
How does frying foods affect glucose levels?
Feel free to fry up the tortillas or any of the other ingredients. The fat content will be higher, which is less healthy, but not dangerous for diabetic health. HOWEVER, be sure to avoid fried fish tacos, as they usually involve dipping the fish in batter before frying it. Anything with batter will affect glucose levels.
Are tacos from street vendors okay for diabetics?
As long as the tortillas are corn, and nothing is battered, there is no worry from a diabetic perspective. Concerns over the safety of eating street tacos are the same for all people who may have sensitive digestive systems or the need for certainty regarding the identity of the meat being consumed.
---