An Easy Recipe for Grilled Vegetables
Summer is here and the weather is perfect for beach barbecues, dancing under the stars, evening walks and just about any excuse to be outside. When it comes to Diabetic Meal Planning many great summer meals come to mind and promise to satisfy even the most particular palates. Summer is traditionally a time to eat lighter and keep off those extra pounds that were necessary to stay warm in the cold winter months. This is actually a perfect time for making light, healthy, and incredibly flavorful meals that are easy on the waistline and will not spike Blood Glucose Levels. Blood Glucose Levels are always a concern for Diabetics and any step in the right direction when it comes to Diabetic Meal Planning is a good one.
With so many vegetables and fruits in season, it is easy to find good quality produce at a good price at almost any local market. Walking through the produce aisle is a feast for the eyes and will really whet the appetite. Fresh green salads, grilled summer corn, watermelon, strawberries…the list literally goes on and on. With so many fresh choices that make Diabetic Meal Planning healthy and cost-effective, it is hardly easy to justify making poor food choices, like fast food. Not that a grilled burger is a terrible idea at all but when making them at home with friends and family the appeal is that much greater. One of the best summer meals that I have experienced and is always a blast is Grilled Summer Vegetables! Diabetic-friendly, this dish can be made may different ways and can suit anyone's taste.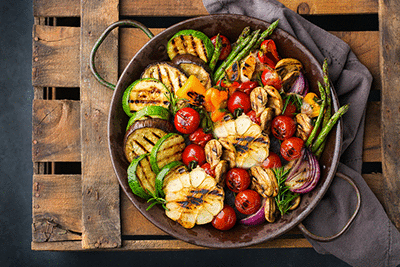 Diabetic Friendly Grilled Vegetables
1. Zucchini and or Yellow Squash
2. Eggplant or Japanese Eggplant
3. Summer Squash
4. Colored Bell Peppers
5. Romaine Hearts
6. Bok Choy
7. Asparagus or White Asparagus
8. Whole Garlic Bulbs
9. Whole Red Onions
10. Red or New Potatoes
1st prep your vegetables by cutting them into long pieces that can be placed on the grill without falling through. The Eggplant should be cut laterally making disc-shaped cuts that can be easily placed on the grill. The Romaine Hearts and Bok Choy should be simply halved or quartered lengthwise to make easy grilling. Asparagus should if anything have the ends cut off but is already perfect for grilling. 2nd Wrap the Potatoes, Garlic, and Onions in aluminum foil with ample Sea Salt or Kosher salt for seasoning. The Potatoes, Garlic, and Onions will take longest to cook so they will go on first.
3rd place your vegetables on a long pan with plenty of space and baste them with olive oil and Sea or Kosher Salt. During this step, you'll also get your grill fired up and ready for Summer Grilling. 4th Once the grill is up to temperature and ready to start cooking place the Potatoes on the grill following them about 5 minutes later with the Garlic and Onions. These are all wrapped in foil and will cook from the inside. If you haven't cooked Garlic or Onion this way before, you are in for quite a treat. 5th Once the Potatoes, Garlic, and Onions start to get soft it will be time to start to put the vegetables on the grill. Starting with the Eggplant and Asparagus is a good idea as they will take the longest. As your vegetables finish, take them off the grill placing them in the same long pan where they were before grilling, replacing them with the next item. Squash should come next and lastly the Romaine, Bell Peppers, and Bok Choy. During this part of the process, you'll be checking your Potatoes, Onions, and Garlic, which you'll remove from the grill leaving wrapped in foil until ready to eat. 6th When all of your vegetables are cooked and ready, grab your favorite summer drink and have a seat at a picnic table for one of the best summer meals you've ever had.
Good compliments for this meal are a nice pasta salad, fresh french bread, exotic cheeses, tomatoes, avocados, etc… This meal can be done so many ways and is very healthy for Diabetics. You'll see that you can literally squeeze the Garlic from the cloves like butter. The Onions will be sweet and caramelized edible by themselves or with some nice Chicken or Steak. This meal is from the Mediterranean in its origin and lends itself to any summer gathering. Bon Appetit!
About Our Guest Writer:
Tim Delaney, Content Writer.  Tim studied Environmental Science at the University of California, Santa Barbara.  He is an avid outdoor enthusiast, loves to surf, is passionate about health, and discovering ways to enjoy life with diabetes.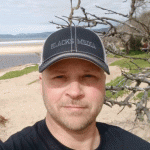 Advertising Disclosure: This post contains affiliate links and at no additional cost to you,  Watch the Review will be compensated if you make a purchase after clicking on these links.
---
Summer Meals for Diabetics FAQs
I like eating lots of vegetables, but how can I keep it from being bland?
Spice it up! It is fun and easy to experiment with different fresh herbs and spices. Fresh basil and oregano or chili peppers of different heats can produce lots of different flavors making any common vegetables into a tasty meal.
What is the healthiest way to add protein but keep the meal light for the summer?
Beans are a great addition of protein (and of course come with lots of healthy fiber) and fresh string beans are available all summer. Peas can also add some protein, and either hot or cold a firm tofu cut into cubes will add lots of protein and not add any real flavor to your dish, but will take on the flavors around it. Also consider adding nuts or seeds for protein and texture, but use sparingly because of fat and cholesterol.
What are some other summer veggies you might recommend?
Check out your local farmers market and bring your sense of adventure! Try new things and ask the farmers for cooking ideas. Leeks, peppers, squash, and other veggies have lots of variations you may have never heard of. I like different kinds of mushrooms and sweet peppers and olives, but these are just the tip of the vegetable iceberg.
---