How Coronavirus Is Affecting Getting a Mortgage
The disruption caused by coronavirus is leaving hardly any part of the modern world untouched. The mortgage industry is no exception, and while it's still possible to get a great deal, it's more complicated than ever before. Here's what you need to consider before going any further with a mortgage application.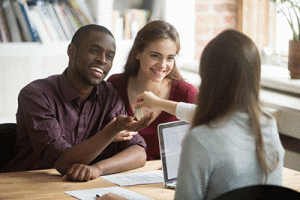 Think Carefully About Getting A Mortgage
First of all, think carefully about whether making such a large financial commitment is 100 percent wise during the pandemic uncertainty. While you may be financially secure right now, can you be sure your position won't change for the worse over the coming months?
If you're in any doubt it may be prudent to wait until the situation is clearer, or at least to consider taking out comprehensive mortgage insurance to provide some protection. But if you're confident in your financial circumstances, there are a few other things to think about before going ahead.
Less Choice Of Mortgage Packages
Mortgage lenders aren't immune to financial uncertainty. Many banks are looking to consolidate their businesses, reducing their risks while they weather the COVID storm. This means there's less competition for new customers and therefore less choice of mortgage packages available.
While comparing mortgages is always important, it's more vital than ever when there are fewer good deals available. Check as much of the market as possible, using online tools or an independent mortgage broker, to make sure you don't overlook the best options from what deals remain available.
And don't forget about community banks and local credit unions, who may be more flexible than the major mainstream banks with their huge potential liabilities.
Is Your Credit Good Enough To Get A Mortgage?
As well as the restricted range of products, getting a good deal is also made more difficult by lenders tightening their criteria. In the past, a poorer credit score usually meant you'd be charged a higher rate. Unfortunately, while the coronavirus crisis continues, those with impaired credit may find it difficult to be accepted at any rate at all.
If you haven't reviewed your credit file recently, now would be an excellent time to do so. Make sure there are no errors or omissions which could be dragging your score down. Pay off any small debts if you can, and avoid taking out any new credit while you're trying to get a mortgage. Even a few extra points on your score could make all the difference to your acceptance chances.
Higher Down Payments On Your Mortgage
And if your credit is anything less than stellar, you can expect to make a much larger down payment than was previously required. Some pre-crisis mortgage deals required as little as 3% down, but lenders are now more likely to ask for 20% as a minimum, especially for larger 'jumbo' mortgages.
Stronger Proof Of Income Needed To Get A Mortgage
Lenders are also asking for stronger proof of income. You'll likely need to give solid proof of what you've earned over the last 12 months at least, and for many lenders, you'll need to prove ongoing income right up until closing.
For self-employed people or gig workers, this could be difficult, so start getting all your documentation together now to avoid any delays.
Volatile Rates For A Mortgage
Lastly, mortgage rates are likely to be extremely volatile until the COVID situation stabilizes. Rates can fluctuate from day to day as new economic figures come in, so if you spot a good deal, consider locking it in with a fixed-rate mortgage.
Fixed mortgages may cost a little more than variable ones right now, but with interest rates at record lows and the economic outlook poor, fixed is likely to be the less expensive option over the long term.
No doubt getting a mortgage is made more complicated by the pandemic, so consider getting some expert help from an independent mortgage adviser or broker. The fees involved will be a small price to pay for access to their expertise and industry connections, and will greatly improve the chances of your approval for a competitive mortgage deal.
---
FAQs Mortgage Loans During The Coronavirus
What is an online mortgage tool?
Online mortgage tools are to help you while shopping for a mortgage loan. Often times they are referring to "mortgage calculators" that help you easily determine what your potential mortgage payment will be on a loan. Other tools can be charts that compare mortgage rates side by side to aid in cost analysis.
How long does it take to get a mortgage?
If you have all the information needed from your bank, it should take about 30 days.
What is considered a
The average credit score needed to buy a house varies from state to state. But here are a few: California - 701, Idaho - 684, Arizona - 671, and Nevada - 682
---
Advertising Disclosure: This post may contain promotional links. Watch the Review may be compensated if you use these links.