Budget-Friendly Vacation Ideas
You need a vacation but can't quite afford all the major expenses that come with traveling. There are numerous ways to have a budget-friendly vacation, though. Here are seven inexpensive vacation ideas.
Budget-Friendly National Parks
National Parks are a great place to have a cheap vacation. There are parks all over the US and Canada, as well as in Australia and Europe. Parks in the US might charge an entrance fee per vehicle, but it's a small price compared with how much exploring you can do once inside. You can easily spend an entire day at a national park and sometimes more. Most have campgrounds or even on-site lodging. Visiting national parks is an inexpensive way to get outdoors and it's suitable for the whole family.
Start Planning your Budget-Friendly Vacation Today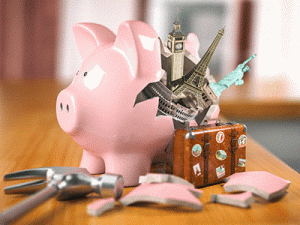 Budget-Friendly Camping
Camping is another cost-effective way to get closer to nature on vacation. If you don't want to camp in a national park or there are none nearby, look for campsites instead. You can "rough" it with a classic tent and sleeping bag or upgrade to "glamping" pretty inexpensively. In some areas, tiny houses and even RVs are available to rent through sites like Airbnb. A camping vacation saves on food and transportation since you usually provide those yourself.
Regional Or Local Vacation
Who says you have to travel to far-off places to have a great vacation? Split the difference between a staycation and costly destination travel by exploring your city, town, or region. Make a list of all the interesting and historical landmarks in your city and create your own walking tour. Visit a part of the city you've always wanted to but never had the chance. If there's an interesting town less than a few hours away then go explore there too. You might be surprised what treasures you can find close to home once you start looking.
Nearby Bed & Breakfast
Take your regional vacation a step further by staying in a nearby bed and breakfast. Even if you're not far from home, lodging somewhere else can be a relaxing and cheap vacation. Bed and breakfasts are usually full of charm, making a stay more interesting than a standard hotel. They tend to be pricier than hotels, but you'll save money on transportation by staying at a bed and breakfast nearby.
Budget-Friendly Last-Minute Cruise
The most inexpensive times to book cruises are either very far in advance or a couple of weeks before it leaves. The ship doesn't want to set off with empty rooms, so prices go way down at the last minute. If you and your family have always wanted to go on a cruise – and you can manage a little flexibility – then booking one right before the departure date could be your best option for a cheap vacation.
House-Sitting
House-sitting is a great way to discover a new place for cheap. House-sitters agree to watch someone else's house while they're away, watering plants, cleaning, looking after pets, and other small chores. Your costs for accommodation will be covered, and in some cases, you can earn enough to cover other travel expenses too. Become a house-sitter by joining a dedicated house-sitting website or checking local Facebook groups.
Friends And Family
Take advantage of friends and family who live elsewhere by paying them a visit. You'll have accommodation and some food covered, plus you get to spend time with loved ones. Don't treat their home like you would a hotel though – clean up after yourself and offer to cook some meals during your stay! And don't expect your hosts to be your tour guide to the other area, either. Do a little research first and go exploring on your own if your hosts are busy.
Summing Up
A fun, relaxing vacation can be inexpensive. If all you really need from a vacation is a break from everyday life, then these budget-friendly options are the perfect escape.
Advertising Disclosure: This post may contain promotional links. Watch the Review may be compensated if you use these links.
---
Budget-Friendly Travel FAQs
How can I keep to my budget but stay in a nice hotel?
Using points earned from credit card bonuses is the best way to stay at high-end hotels without spending money. American express and Chase offer point bonuses for meeting minimum expenditure requirements, and these points can be used to book hotels. Many hotel chains also offer bonuses like free nights without blackout dates when signing up for their credit cards.
How can I get a good price on flights?
Sites like Cheap-O-Air and Travelocity have good deals, but may leave travelers in situations where they are traveling late at night or having extra legs with extended layovers. Some airline credit cards like Southwest and Delta provide free companion passes to cut expenses drastically, and are good to take advantage of. Usually the cheapest flights leave late at night, or include extended lay-overs or added legs, but if this is ok, there are lots of deals to be had.
What is the best time of year to travel on a budget?
Avoiding major holidays is the best way to get good deals on travel. Spring and fall are some of the best times to travel for the budget-conscious, and be sure to book in advance and monitor prices consistently. Often both airlines and hotels will honor price drops if you have already booked your trip, and being polite with your request isnu2019t a bad idea.
---