Finding The Right Auto Mechanic | Do The Research
When you need repairs or routine maintenance on your car, pickup truck or SUV, you have almost 750,000 automotive service technicians working at car dealerships, auto-body shops and repair stations located throughout the U.S. The challenge is finding the right mechanic to do the work, but there are things you can do and questions to ask to help you find the right mechanic for the work you need completed.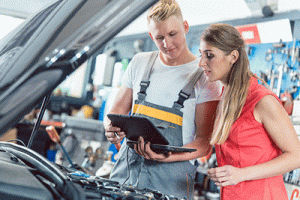 Get To Know The Basics Of How Your Vehicle Works
Even if your knowledge of the workings of the internal combustion engine that powers your vehicle is limited, your senses reveal a great deal of information about how well your vehicle is working. What you see, feel, hear and smell as you drive each day gives you essential information to detect problems.
For example, the color of a wet spot that suddenly appears under your vehicle may help you identify the source of the problem. Leaking antifreeze can appear as a yellowish or orange puddle under your vehicle and indicate a loose or broken radiator hose or a problem with your water pump. Knowing this limited amount of information about your vehicle helps to avoid a costly and unnecessary repair by a mechanic who diagnoses the issue as one stemming from your power steering, which uses red fluid.
Gather Recommendations And Checking Reviews
Your efforts toward finding the right mechanic should begin before your vehicle needs service or repairs. Friends, relatives, and co-workers are excellent resources for recommendations but not when you are standing beside your vehicle that has broken down on the side of the road.
Use the internet to research reviews of the repair shops or mechanics that have been recommended to you by people who have already used them.  Online reviews offer a broader range of opinions about the quality, pricing, and reliability of the mechanics to give you additional information in making your decision about which one to use.
Credentials And Certifications
The National Institute for Automotive Service Excellence certifies the competency of mechanics based upon their knowledge and skills as demonstrated by their performance on ASE tests and their years of experience working in the field. A shop may display the ASE seal if all or some of its mechanics are ASE certified.
Mechanics may elect to obtain specialized certifications, such as for hybrid and electric vehicles. You should ask the owner or manager of a repair facility about the level of experience its mechanics have working on your type of vehicle on the particular repair or service for which you will be bringing it to them.
Ask About Pricing
The cost of a repair is an important factor when finding the right mechanic. Many mechanics use a flat-rate method to determine what they charge for their services. Flat rate manuals contain industry-wide estimates of the labor cost of many routine repair and maintenance items. For example, instead of calculating how many hours a mechanic spends on the repair of your vehicle, the charge will be based upon the time the flat rate manual estimates for the repair.
Keep in mind that mechanics are generally free to raise or lower their prices for particular repairs, so it pays to shop around to get the best price. Oil changes, tire rotation and brake replacement are routine maintenance items for which you might find a mechanic or a repair facility offering discounts or sales to attract new customers.
You want the mechanic you select to work on your vehicle to give you a written estimate of the repair and its cost before any work is started. The estimate should include a description of the repair or service, the labor charges anticipated for the repair, and a list of the auto parts needed to complete the service along with its price.
Licensing And Insurance
Some state or local governments have regulations for the licensing of facilities performing repairs and service on motor vehicles. Licensing usually requires proof of liability insurance to protect against damage to your vehicle while being worked on by the mechanic or injuries you might suffer in a fall or other accident while at the shop. Workers' compensation is usually another requirement of licensing.
Recourse When Something Goes Wrong
Regardless of the knowledge and skills of the mechanic you choose to do work on your vehicle, things may not turn out as you expected. Ask if the mechanic guarantees the repairs to your vehicle and get it in writing before authorizing the work.
If the service is not performed properly and the mechanic does not honor the guarantee, you may be able to file a complaint. There may be a complaint process through a state or local agency to help when you have a problem with a repair performed by a mechanic or repair facility.
You might have recourse against a mechanic through referral websites. For example, if you relied upon Angie's List or similar websites in your effort at finding the right mechanic, you usually have the ability to file a complaint and have it resolved through the site.
Advertising Disclosure: This post contains affiliate links and at no additional cost to you,  Watch the Review will be compensated if you make a purchase after clicking on these links.
---
Finding The Right Auto Mechanic FAQs
There are so many mechanics, and lots of them have great reviews. How do I make my final choice?
When all things appear equal, try going to the shop in person and go with your gut. Does one mechanic's personality mesh better with yours? Are two shops equidistant from your place but one is just easier to get to? If you have to leave your car for a brief period, is one in a location with more food and/or services around it? If I have to give my money to somebody, I'd rather give it to someone I respect.
I have had bad experiences with mechanics and have a hard time trusting them. How else can I pick one?
Beyond reviews or meeting the mechanics first, try contacting current or previous customers. Recommendations are great, and hearing a voice can lend sincerity we can't hear in text. A good mechanic shouldn't mind you contacting current customers for feedback.
Is a dealership service department better than an independent garage?
Often dealerships are more expensive than independent mechanics, but sometimes this is because they are using new parts instead of refurbished parts. Dealership mechanics might know small details about specific makes or models because of their experience. The dealership may also offer "loaner" vehicles or shuttle services for customers. New cars should always be serviced at the dealership during the warranty period so as not to void the warranty and to track any new-car issues.
---