Holiday Shopping During Uncertain Times
The holidays are upon us, and that means it's time to think about holiday shopping for all of the friends and family members on your list. Holiday shopping is a slightly different prospect than it has been in years past, mostly due to the COVID-19 global pandemic that continues to impact countries around the world.
Spikes in COVID-19 related illnesses are being seen around the globe, with a few, particularly concerning variants, popping up around Thanksgiving this year. This makes many people wary of doing their holiday shopping in person.
Global supply chain issues will also impact what you can and cannot buy this year – at least if you want to receive your item in time for the holiday you're celebrating. This year, you'll need to take a smart, thoughtful approach to ensure you get your shopping done on time.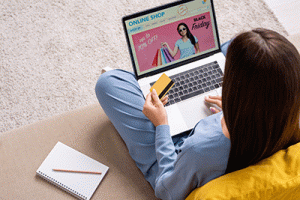 The New Shopping Routine: How Shopping Has Changed Since the Pandemic
Shopping in general, even day-to-day shopping for items like groceries has changed quite a bit since the pandemic. Now, more people than ever are taking advantage of online shopping. Same day and two-day delivery make this more convenient than ever.
While convenient, online shopping isn't the only option. Now that you're likely doing more in-person again, supporting local businesses is a wonderful way to support the people in your community.
You'll also find a range of unique gifts you won't be able to get in big box stores or through major online retailers.
And don't forget about those stimulus checks. Use them wisely but if you have any extra, put it towards your holiday shopping.
Supporting Our Local Businesses
With online shopping becoming more popular, the holidays aren't the major boon for local businesses that they used to be. You can help keep those local stores open by doing at least some of your shopping through local retailers though.
Whether you buy in person or via a store's website, aiming to do at least some of your holiday shopping with local companies can provide the support they need. If you're not sure where to start, a 50/50 mix of local and larger online retailers may be the way to go.
Don't Forget the Appeal of Window Shopping
Think back just a handful of years and you can probably see yourself window shopping for gifts for everybody on your list. Taking a stroll through the mall or a particular street lined with your favorite shops – often at night with the holiday lights guiding your way – was a big part of finding gifts for loved ones.
The concept of window shopping works to create a sense of holiday community – a general feeling that the season is here and we're all celebrating together. The very nature of window shopping also encourages you to support local businesses, which is always a good thing for your community.
Getting out and window shopping this year, particularly after the multiple waves of COVID-19 surges, could help put you in the spirit of the season in a way you haven't experienced in years.
The Lure of Online Shopping
Online shopping has become the norm for many people when it comes to the holidays. With delivery direct to your door, all you have to do is click a button and enter your credit card information to get your shopping done from the comfort of your couch. More and more local stores are offering fast, convenient pick-up options in person as well.
Online shopping also allows users to quickly compare different products of a similar type and their prices before buying. The fact is that much of the holiday shopping done this year will be done online.
The good news is that you may be able to shop online and still support local businesses in the process. That's because even many small stores and local sellers have created their own marketplace systems so you can purchase directly from them over the internet. Many even offer fast shipping or nearby product pick-up so you can get your item on time.
In 2021, you can enjoy the best of both worlds when it comes to your Christmas shopping. How? Look to shop via local businesses, but don't be afraid to mix in some items from larger retailers if they have what you want and can get it to you on time.
Buying from both types of outlets will ensure you get the items you want while you still work to prop up your local economy and community.
Start Your Holiday Shopping Early to Avoid Global Supply Chain Issues
Global supply chain issues have made getting the goods we want tricky for some time now. Large items like cars and tech gifts are especially hard to deal with since many of their parts are made overseas in locations where production has slowed dramatically.
While you can't change the impact of global supply chain issues, you can reduce their impact on your holiday season. You can do that by starting your shopping early. Plan to have your gifts arrive a few weeks ahead of time so that any delays don't impact what you can give this year.
You'll also need to remember that online shopping is convenient, but shipping delays are becoming increasingly common. Don't plan to have your gifts arrive the day before Christmas!
Shopping locally for items you can actually buy and take home the same day can also help you avoid global supply chain issues that could ruin your holiday season.
The holiday season is here, and that means it's time to get shopping. Whether you're buying for a big family or just picking up a couple of gifts, you'll need to plan ahead to avoid global supply chain issues and shipping delays.
One way to avoid those growing problems is to buy products in person through local retailers. That comes with the added bonus of supporting a local business that may not make it without your holiday spending.
Whatever you're buying this year, get a head start on your shopping to avoid delays and late gifts this season.
---
Holiday Shopping During Uncertain Times FAQs
Ways to battle online shopping addiction
There are several ways to cut down on your online shopping addiction. 1. Use cash instead of credit - physically get out of the house to shop 2. Track your money in a spreadsheet or software. 3. Set spending goals. 4. Block those sites you tend to spend the most of your money on unnecessarily.
What's the average shipping time during the holidays?
The average shipping times during the holiday season according to USPS, UPS, and FedEx is 3 to 7 days.
Is Santa Clause still visiting shopping malls?
Christmas 2021 will be welcoming back Santa Clause to the local shopping malls. In 2020 it was the first time in 158 years that Macy's did NOT have Santa visiting their iconic New York store.
---
Advertising Disclosure: This post may contain promotional links. Watch the Review may be compensated if you use these links.