Spend Your Stimulus Check Wisely
The pandemic and the economic distress it caused has affected people throughout the country with some being hurt more than others. Stimulus payments from the government to ease the financial hardship offer some relief. The challenge for most people has been to find the best ways to spend stimulus check money. Here are a few financial hurdles people are facing and some of the ways to lower expenses during the pandemic and make good use of a stimulus check.
Get Groceries Delivered To Your Home Now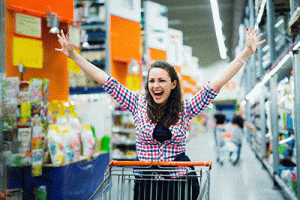 Rising Cost Of Groceries – Using Grocery Delivery Services
A sudden demand that sent people swarming to supermarkets and grocery stores at the outbreak of the coronavirus left shelves bare as people stocked up on canned foods, paper products, and other essentials. The closing of restaurants that forced people to cook at home, supply-chain interruptions and delays, and other factors caused the cost of groceries to dramatically increase. Prices continue to remain high more than a year later.
Grocery delivery services offer consumers the best way to shop for the lowest prices on groceries without having to travel from store to store. They also let shoppers reduce the risk of exposure to the virus by avoiding crowded stores.
It takes planning to get the most out of the use of grocery delivery services to take advantage of their convenience and opportunity to save money. Get started by making a list of items you need right away and a second list of groceries you buy on a regular basis.
Go to the websites of local supermarkets and grocery stores to see if they offer delivery services before going to the websites for grocery delivery services that are not affiliated with a store. Focus first on finding the items from your need-it-now list at the best price and earliest delivery date.
Price may not be as important for you as how long it will take to get what you need. Once you work your way through the list of immediate needs you can start shopping from the other list.
Rising Cost Of Fuel – Less Driving/Commuting To Work
Stay-at-home orders issued at the state and local levels of government in response to the pandemic caused the price at the pump to drop. An overabundance of supply combined with a dramatic drop in demand for gasoline caused the price of crude oil to plunge to $20 a barrel
a year ago. A loosening of travel restrictions, increased availability of a vaccine and an overwhelming desire to return to life as it existed pre-pandemic has caused the price of a barrel of crude oil to more than double in recent months with the pump price in many parts of the country returning to pre-Covid-19 levels.
You may not have control over the cost of fuel where you live, but you can limit its effect on your budget by reducing consumption. Using your stimulus check spending to perform a tune-up and other maintenance on your car that you may have neglected during the early stages of the pandemic can save money by reducing fuel consumption.
Dining Out Is Now Dining In – Using Restaurant Delivery And Meal Kit Services
The closure of restaurants or local restrictions that limit them to only providing take-out service continue in many parts of the country. This has forced people to look for other options. Meal kit services and restaurant delivery offer alternatives to going out to dine at a local restaurant.
If you are not familiar with how restaurant delivery works and think it means finding a local restaurant that employs a driver to deliver meals, you are mistaken. Restaurant delivery services that are not affiliated with a specific restaurant have expanded operations throughout the country.
Grubhub, Uber Eats, and DoorDash are only a few of the services that allow you to order takeout from your favorite restaurant and have it delivered to your front door. The services have strict social distancing guidelines in place to keep you safe.
If you prefer preparing meals at home, meal kit services, such as Home Chef, Plated, and Blue Apron, may be for you. The services deliver to your home all of the ingredients and instructions you need to prepare a nutritious meal. Depending upon what you choose, you may find a meal kit delivery service to be less expensive than shopping for the ingredients on your own.
The rise of using Amazon and Walmart Online for all your stimulus spending needs
Online shopping was around long before the pandemic, but Amazon and Walmart online have proven to be perfectly suited to pandemic restrictions. They offer you the ability to avoid venturing into crowded stores and shopping malls by shopping from home while still allowing you to find the best prices and selections to get the most from your stimulus check spending.
---
Stimulus Checks FAQs
What's the average stimulus check payout?
According to SmartAsset's website, congress has approved 2 rounds of stimulus checks. The first round included a $1,200 payment and another stimulus check paying up to $600 per person.
What's the average cost for a gallon of Milk?
According to the USDA, the average cost of a gallon of milk in the US is $3.45 a gallon.
When did gas prices hit a $1.00 a gallon?
Due to the 1979 gas crisis, between 1979 and 1980 gas prices rose from $.89 cents per gallon to over $1.00
---
Advertising Disclosure: This post may contain promotional links. Watch the Review may be compensated if you use these links.