The Dollar Shave Club | One Woman's Experience
I make no secret of the fact that I am part of a men's shaving supplies club – namely, the Dollar Shave Club. While the club does not exclude women from joining its ranks and purchasing supplies, it advertises, markets, and writes to a male audience. The website images portray men. The razors, cleansers, and shave butters are packaged in dark, masculine colors. Even the blog content is geared towards men, and includes edgy topics like the following:
"How to Shave Your, er, Coconuts"
"What to Look for in a Gym Buddy"
"The Dirty Truth About Guys Who Never Wash Their Hands"
Maybe another woman would feel discriminated against or left out. Me? I really don't care. I'm not a member of the Dollar Shave Club to make friends or to network. My goal, whenever I go to this site, is to purchase additional toiletries or check out something new. Once I've achieved either or both of those goals, I'm gone.
Get Your $5 Dollar Starter Kit Today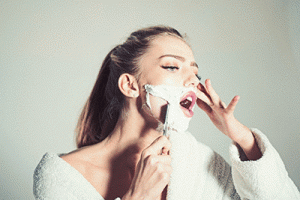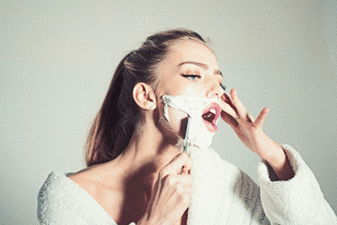 Why Join The Dollar Shave Club?
I first joined the Dollar Shave Club because of frustration with my razor shopping habits. I had been taking advantage of sales and coupons to buy different shavers and razor cartridges. Over time, I had accumulated a number of shaver handles, none of which seemed to match up with the cartridges I had also stockpiled. So, every other week or so, I found myself back in the personal care area of my local grocery or convenience store, trying to match up another sale-priced handle with the razors I still had at home. Or vice-versa.
It became tiring. Also, despite my penchant for finding the best sales and promotions, I suspected that I was paying more money than necessary for my shaving items.
One day, I spotted an online ad for the Dollar Shave Club. For just $5, I could purchase a starter shaving set consisting of a six-blade Executive razor, a four-pack of cartridges, and the Sh*t, Shower & Shave Trial Kit. After that, I'd pay $9 for a monthly 4-pack of razors.
It sounded like a good deal, so I signed up. My first box arrived quickly in the mail and contained all the promised items. I liked the Executive razor- this flagship product was made of metal, had a good solid build and, as advertised, featured razors that had six blades. The razor handle snapped into the cartridge firmly and securely, and release of the spent cartridge was accomplished by pressing a small latch on the handle. As for the cartridges, they certainly did the job of providing me with a close shave along my legs, ankles, and armpits. No nicks either. After a week had passed, I tossed my first cartridge and snapped the second one into place.
Dollar Shave Club's Variety Of Shave Products
The other items I'd received with my starter kit were a one-ounce shave butter, a one-ounce amber and lavender-scented body cleanser, and three buttwipes. I really liked the body wash- it lathered well and had a pleasant fragrance that didn't smell like it had been concocted in some chemistry laboratory. The shave butter was nice, but somewhat unnecessary for my needs because I typically just soaped up my legs before shaving them. As for the buttwipes, they were a novel idea but didn't particularly 'stick' with me. Quite frankly, I found the minty tingle of the wipes a bit overpowering for my undercarriage.
After several weeks passed, I was notified by email that I'd soon be receiving my next set of cartridges in the mail. I could delay my order if I selected, on to the site, that I was "growing out my beard." Although I still had one cartridge remaining in my starter set, I figured a second set wouldn't hurt. Two days later, my Paypal account was charged. Three days after that, my Dollar Shave Club order arrived.
Plenty Of Dollar Shave Club For All
After several months, I found myself inundated with razor cartridges. This was largely due to the fact that I don't shave every single day. I found it a bit odd that I had to make up an excuse like growing out my beard in order to suspend my subscription for a time. However, once my supplies ran low, I could easily restart my delivery schedule.
I've been a member of the Dollar Shave Club since 2016 and see no reason to stop. The cartridges that I receive are sufficient for my needs and of good quality. I can select extra products with my order, such as shower creams or extra razor handles. The Dollar Shave Club also runs occasional promotions for free or reduced price toiletries.
Best of all, I no longer waste time and money by shopping for extra razors and blades.
Advertising Disclosure: This post contains affiliate links and at no additional cost to you,  Watch the Review will be compensated if you make a purchase after clicking on these links.
---
Women's Shave Club FAQs
How Are Men's And Women's Razors Different
1. Head - The head is more rounded for contour flow on a woman where it is more square on a man's razor to follow the shape of the face. 2. Angle - Men's razor blades are set at a larger angle to be able to cut through thicker facial hair. 3. Arc - Women's razors have a larger arc so they can easily see what they are shaving when shaving their armpits, legs, and bikini area. Men's razors are more flat.
What's The Difference Between Shaving Soap And Shaving Cream
1. Shaving soap produces little to no lather which may make shaving a little more difficult on some skin. Shaving cream produces a quick lather providing a quicker shave but not necessarily as a smooth finish as when using shaving soap. 2. There are more shaving soaps that are unscented then there are shaving creams. If you do not like a lingering scent on your skin, shaving soap may be the better option. 3. Shaving soap tends to cost more than shaving cream.
How Often Should You Change Your Razor Blade
Some of the more higher-end razor manufacturers say you should get 5 to 10 shaves out of one razor blade, the lower quality razors will give you 3 to 4 shaves before needing to be replaced.
---