Vacation Rentals Are The Way To Go
Once the days get a bit longer and summer officially hits, my girlfriends and I start looking forward to our annual mountain weekend getaway. The tradition began back in high school as we celebrated the semester's end, and even now continue it as our families grow and our careers keep us busy. Fresh air and that summer sun can do a world of good for people like us. For three whole days, a quiet corner of Mammoth will host our little group. Cars will be crammed with suitcases, a down pillow peeking out from under the piles of backpacks and a single hiking boot finding itself lodged between the seat and window. Our friendships are rekindled as we wind up the summit road.
Research Carefully Before Booking A Vacation Rental
Choosing our vacation rental in the months leading up to our trip keeps us busy. Private homes in the mountains tend to book up starting in January and February, so we're careful to begin our search as early as possible. We chose to book through Airbnb and spent hours drooling over our many options and reading dozens of reviews. It's important to comparison shop, keeping in mind price points and amenities available, especially when booking with a larger group. We were mindful of the ratio of bedrooms to bathrooms, preferring open floor plans for natural gathering, and luxurious kitchens for nights of wine sipping and bowls of fresh pasta. After sifting through dozens of options, we narrowed down our top choices to just one spectacular home. Set in the middle of the forest with plenty of trails for hiking and an artsy town with chic restaurants nearby. The website's photos portrayed a striking three-story mountain dwelling complete with four large bedrooms with en suite bathrooms, all with charming decor and style. After securing our contract and submitting payment, we were officially booked.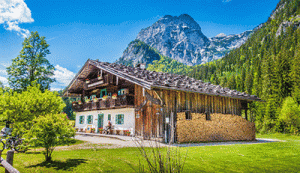 Checking Into Your Vacation Rental
Toting our luggage up the gravel path to the house, the property manager warmly greeted us and demonstrated the home's security system, using a simple touch keypad. Knowing that we and our belongings would be safe during our stay gave us peace of mind. The check-in process was a breeze as he began our tour of the rental home. The paned French front doors were swung open, and our eyes quickly landed on the naturally grainy wood walls, left untouched by the designer's choice. Bright sunlight shone through the floor to ceiling windows revealing the thirty-foot cedar trees standing staunchly in the courtyard. Images of morning coffee time and gorgeous sunrises flashed through our minds. He then showed us the winding staircase that would lead to the well-stocked kitchen; precisely what we were looking for. Open shelves held quality pots and pans, and drawers were marked with more kitchen necessities. The ability to quickly prepare our favorite foods was a money-saving plus. We felt the wrap around deck calling us, and we moved on to see the hand-carved rocking chairs facing the mountain view. It was an enchanting space, and we were thrilled with our fortunate choice.
A Vacation Rental Is A Home Away From Home
Vacation rental hosts elevate their listings when they go the extra mile with their hospitality. In our case, a lovely welcome basket was laid out for us. Packed with local trail maps, restaurant menus and a bottle of wine from a local artisan. This was an extra touch of warmth and one that we appreciated as guests. Just like a hotel or inn would include sample toiletries in each room, private vacation rentals should do the same. Our surprises continued as we unpacked in each of our rooms. Each closet contained a soft terry cloth robe, slippers, and a silk sleep mask. Crisp white linens were laid out on the beds and soft rugs stationed underfoot. Our host had created a luxurious home away from home and our expectations were more than met.
Live Like A Local In Your Vacation Rental
With boots on our feet and the sun shining overhead, we made the most of our weekend away. Our mornings were spent lounging on the deck with hot mugs of coffee until we were ready to hit the trails in the afternoon. Many pleasant walking paths were marked on our map, and we thoroughly enjoyed being out in nature. We wandered around the artsy town, which proved to be a fantastic outing, and we enjoyed picking up a few keepsakes to bring home. It was a neat experience to live like a local and enjoy all the little town had to offer. We would end the evenings chatting around the table eating our homemade meals, and finally falling into our beds when the day was done. The highlight of our trip was our vacation rental. With its gorgeous design, and pleasing layout it made for the ultimate weekend retreat.
Leave A Review On Your Vacation Rental Experience
Leaving a review can be a great help to hosts and future guests alike. We were happy to leave a glowingly positive review of our weekend rental, that will drive future guests to book. A description of the delightful time we enjoyed as well as images of the pristine home ensures future guests for our host and is an integral part of using a vacation rental service like Airbnb. In return, your hosts can review you as a guest. We were sure to follow our host homes rules with wiping down counters and removing any trash from the receptacles. Our group received an excellent rating from our host and are happy to continue visiting this dream house in the future.
Refreshed and ready to tackle the week ahead, our group made its way back down the mountain with plans to book the same rental next year. Booking a vacation rental online can be efficient and straightforward. By us following some key guidelines during booking like reading multiple reviews and taking time to comparison shop before making our decision; overall, our experience was terrific. Our weekend girls getaway was a success, and every one of us is looking forward to our next trip.
Advertising Disclosure: This post contains affiliate links and at no additional cost to you,  Watch the Review will be compensated if you make a purchase after clicking on these links.