Remodeling Your Bathroom | Where To Start?
A bathroom remodel is not something to jump into without putting a great deal of thought and planning into it. Selecting a contractor, living with the demolition and construction, and the countless hours you must spend choosing the design, materials, and fixtures will be time and money well spent. A remodeled bathroom adds value and improves the functionality of your home.
Bathroom Remodel 101
There are countless reasons for remodeling a bathroom. Your family might have grown and an adding a bathroom or enlarging an existing one could accommodate the extra use, or your bathroom old and in need of a face-lift. Regardless of your reason for wanting to remodel, the first step is the creation of a budget.
Decide how much money you have available for your bathroom remodel project, and then begin the process of hiring a contractor. A contractor with experience remodeling bathrooms takes the ideas you have about your dream bathroom and determines the size and the types and quality of materials and fixtures the amount of money you have to spend can realistically accommodate.
Before any work begins, your contractor must apply for and obtain a building permit from the local building department. This usually requires submission of an application accompanied by a set of plans or blueprints and payment of the permit fees.
The first stage of remodeling your bathroom is the demolition of the existing bathroom. This begins after the building permit is issued by the local municipality. The extent of the demolition varies from project to project depending upon the scope of the renovation, but it usually involves removal of old plumbing and lighting fixtures, vanities, flooring and wall tiles. It could also include the removal of existing walls or ceilings depending upon your particular design plan.
The demolition phase is a good time to shop for the style and colors of fixtures and materials that will be installed during construction, including the following below.
Bathroom Remodel List
Vanity
Sinks
Bathtub and shower
Floor Tiles
Wall Tiles
Lighting fixtures
Toilet
Mirrors
Faucets and shower head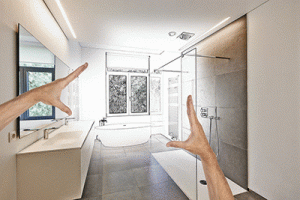 You should also pick out paint colors for walls and surfaces not covered with tile. Ask for paint, flooring and tile samples to take home to help you decide before making the purchase. It is better to take your time now what you like and don't like instead of having to ask your contractor to rip something out and start over.
The contractor will bring in electricians, plumbers, and other licensed subcontractors to do some of the work on the project. At various stages of the construction phase, the contractor will arrange for required inspections by the building department. The building department conducts a final inspection at the completion of the construction in order to issue a certificate of occupancy proving the bathroom was built according to the build code requirements.
Bathroom Remodel Dos and Don'ts
Each remodeling project is different, but there are a few things you should do and some you definitely want to avoid, including:
Avoid certain types of flooring: Bathrooms are wet environments, so avoid floor tiles made of porous materials. Also to be avoided are vinyl and linoleum tiles with seams that could allow water to get under them.
Select non-slip flooring: Bathroom floors get wet, so choose a non-slip tile or other material for your floor.
Install ventilation: Unless you like mold and mildew in your bathroom, install adequate ventilation.
Hire a professional: An experienced and licensed general contractor who works with licensed subcontractors is equipped to handle any surprises that might arise during your bathroom remodel. For example, a leaking pipe discovered when sheetrock is removed during the renovation could have caused extensive damage, but a general contractor can resolve this and other issues quickly and effectively.
Hiring a Contractor
The general contractor does much of the construction and demolition and also schedules and supervises the work of electricians, plumbers and other technicians to ensure everything is completed on time and passes inspection by the building department. Get recommendations from people who have recently completed bathroom remodel projects. Interview and get price quotes from several before choosing the one to do your construction.
Licensed contractors know the building codes. It's their job to ensure that any work they do is in compliance with the code, that all materials meet applicable standards, and that all work passes inspection by the building department.
How Much Does a Bathroom Remodel Cost
The cost of a bathroom remodel depends upon how elaborate you want it to be. Renovation of an existing bathroom could cost $14,000 or more depending upon the quality and cost of the materials and fixtures you choose. Construction of a new bathroom would cost more because of the added labor and materials required to build new structures instead of using existing walls and ceilings.
---
Remodeling Your Bathroom FAQs
How much should I reasonably budget for a bathroom remodel?
Of course, this varies based on the size of the bathroom and the desired changes, but for a very basic remodel and low-cost materials, one should expect to spend at least two to three thousand dollars just to be safe. Other factors like do-it-yourself versus hiring labor, disposal of refuse, and the purchasing of tools can be hidden costs that can raise the need for funds substantially. The $14K mentioned in the article is easily reachable very quickly based on materials and the size of the space.
How long should a bathroom remodel take?
Factors for this would not only include the size of the space and the hiring of labor, but also the availability of materials and even the time of year. Many contractors will be busier during the spring and summer months, so doing such a project in the fall or winter might help move it along more quickly. If using a contractor, establish a timeline early on and encourage completion by not making the last payment until work is complete. If work is done diligently and materials are readily available, two to six weeks is the most likely window for completing such a project.
What are the best brands to use when remodeling?
Some contractors may advocate for certain brands because they are less expensive, and often quality does not necessarily come with a larger price tag, but, as my grandfather used to say; u201csometimes you get what you pay foru201d. When considering a budget, remember that the work done should last at least 15 years, maybe more. Be willing to spend a little extra to get what will make you happiest, since you will be living with it (literally), or trying to sell it.
---
Advertising Disclosure: This post may contain promotional links. Watch the Review may be compensated if you use these links.